The 1940 Mercury Club Coupe was envisioned by Edsel Ford, who is fondly remembered as a man of impeccable good taste. It was he who took credit, with designers John Tjaarda and E. T. "Bob" Gregorie, for the startling, aerodynamic 1936 Lincoln Zephyr.
Edsel saw a gaping hole between the $700 Ford and $1,300 Zephyr, a gulf that was costing Ford millions in lost sales to Pontiac, Dodge, and the independents. Although Henry seemed unconcerned, Edsel knew Ford needed a "step-up" car.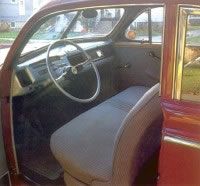 The "super deluxe" Ford arrived in late 1938 as the 1939 Mercury. It was named after the Roman god Mercury: messenger of the gods, god of commerce, manual skill, eloquence, and cleverness.
The engine introduced with Ford's latest remained in production through 1948, a 239-cid L-head V-8, slightly larger than Ford's 221-cid V-8/85, and -- at 95 bhp -- 12 percent more powerful.
Mercury's 116-inch wheelbase stretched four inches longer than Ford's, enough to add elegance to the styling and make the car look larger. The dash, aping Ford's, used strip-type instruments; both featured a column-mounted gearlever and (finally) hydraulic brakes. Mercury's 1940 styling looked Ford-like: a crisp, pointed nose; flush-mounted headlamps; and rounded lines that tapered to a beetle back.

The five body styles were priced from $946 for a two-door sedan to $1,212 for the seldom-seen convertible sedan. One of the prettiest models offered was the five-passenger Club Coupe, or coupe-sedan. Its trim B-pillars and neat chrome moldings around the side windows almost predicted the hardtop, which became the rage in the late Forties.