Britain's high-performance 1966-1991 Jensen Interceptor never seemed to get much attention in the United States, and that's strange. After all, every one of these Italian-styled grand tourers carried a Chrysler V-8 engine and TorqueFlite automatic transmission.
What's more, the fate of Jensen Motors, Limited was once dictated by a couple of Americans: first Carl Duerr, a Chicago-born corporate "Mr. Fix-It," then San Francisco import-car baron Kjell Qvale.
Underappreciated by Yanks it may have been, but the Interceptor merits attention for its "overachieving" performance. Like Studebaker's Avanti, another 1960s creation that hung on for a long time in very limited production against all odds, the Interceptor became its own "replica" in a sense -- and all the more interesting for it.
Then there's its historically significant offshoot, the FF, which offered full-time four-wheel drive and antilock brakes more than a decade before Audi claimed that first with its original 1980 Quattro.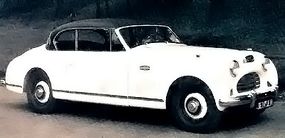 The Jensen story began with brothers Richard and Alan Jensen, who in 1931 began turning out car and truck bodies of their own design in the English Midlands hamlet of West Bromwich, near Birmingham.
Three years later they took over the old local coachbuilding firm of W.S. Smith & Sons and formed Jensen Motors. A year after that, in 1935, came the first all-Jensen car.
Like William Lyons of Jaguar fame, the Jensens initially traded in custom styling for various British production chassis, but they also worked on U.S. Ford V-8, Lincoln V-12, and even straight-eight Nash platforms. Dick was chief engineer, Alan the administrator (which may explain why some of their designs weren't all that attractive). Still, their work found increasing favor among monied types who wanted to drive something different and sporty, including movie idol Clark Gable.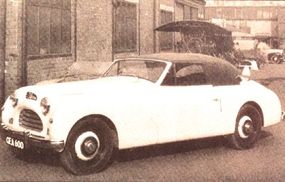 Following World War II, the Jensens used six-cylinder Meadows engines and Moss gearboxes, then switched to a four-liter Austin six for a somewhat lumpy -- though not unappealing -- fastback coupe introduced in 1949. They called it Interceptor. A better-looking replacement, the 541, arrived four years later.
Besides a more modern tubular-steel chassis, this new model was noteworthy as the world's first production four-seater with bodywork in that new postwar "wonder material," glass-reinforced plastic (GRP), or fiberglass.
The Jensens were soon earning most of their money as contract body suppliers for the new Austin-Healey 100 sports car, but they managed to evolve the 541 into improved, higher-power R and S models, significant as early users of all-disc brakes. By 1961, they'd picked up a commission from Volvo for assembling that firm's new P1800 sports coupe, whose early bodies had been initially supplied by England's Pressed Steel company.
They were also busy readying a new Jensen, which was launched in 1962 as the CV-8. This was basically a facelifted 541 packing a 361-cubic-inch Chrysler V-8 with 300 gross horsepower, linked to the American maker's responsive three-speed TorqueFlite automatic transmission.
Though not very pretty -- especially its jutting nose with slanted quad headlights -- the CV-8 sold well for a specialty machine on its attractive combination of coachbuilt exclusivity, reasonable price, and high performance. The last went even higher in 1964 with the adoption of Chrysler's four-barrel 383 V-8, whose 330 horses were good for an honest 130 miles per hour.
Jensen was going great guns financially, too, still turning out Healey bodies and its last Volvos, as well as the new Ford-powered Sunbeam Tiger sports car for the Rootes Group, which was soon to become Chrysler UK.
See the next page to learn about the first of the series -- the1966 Jensen Interceptor.
For more information on cars, see:
Classic Cars

New Car Search

Used Car Search