The four-door version of the 1941 Dodge Custom Town sedan was the most popular of its line.
At the time, Chrysler Corporation ranked a solid number two in the American auto industry in 1941. Model year production of 1,042,014 bested a slipping Ford Motor Company by a quarter-million.
Dodge, Chrysler's second best-selling nameplate, accounted for 237,002 units.
Its popularity was assured by an effective facelift featuring a wider horizontal-bar grille, a more prominent "beak," and new taillights. Although they could still be ordered, running boards had all but disappeared.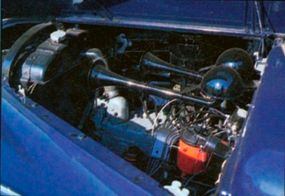 Popular accessories included fender skirts, turn signals, bumper guards, and Fluid Drive, the semi-automatic transmission Dodge had debuted for 1940. Prices started at $861 for the DeLuxe business coupe.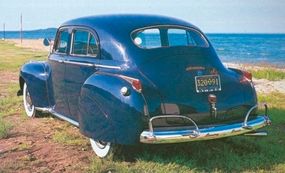 Including two- and four-door sedans, 45 percent of sales went to the lower-line models. For about $100 more, Dodge offered the Custom series, which added "Airfoam" seat cushions, additional exterior brightwork, a passenger's door armrest, and twin electric windshield wipers.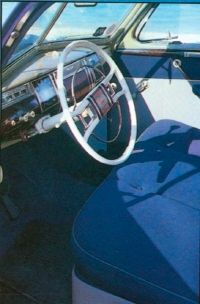 Dodge only built 72,067 Custom four-door Town sedans at a base price of $999. A sleeker Town Sedan with rear quarter windows, like the car featured here, came only as a Custom and cost $63 more. It found only 16,074 buyers.
A 217.8-cid L-head six rated at 91 horsepower -- up four -- propelled 3,234 pounds of curb weight, resulting in
"leisurely" acceleration at best. No matter -- the rear bumper branded this Dodge a "Luxury Liner" not a hot rod.
Elegance of line characterizes the 1941 Dodge. This Dodge Custom Town sedan would be right at home at any country club anywhere in America.