The late Roy D. Chapin, Jr., former chairman of American Motors Corporation, liked to tell about when AMC wanted to introduce a new car for 1958, and ended up with the 1958-1960 Rambler American. Though sales of the 108-inch-wheelbase Ramblers were climbing, additional products were needed to boost sales further. The small-car market offered the best opportunity.
Car buyers were displaying a growing interest in small foreign cars. AMC covered that market with its imported Metropolitan, but the Met was only a two-passenger car; for higher sales volumes an automobile capable of holding four or five was needed.
AMC considered bringing out a revamped Metropolitan with a wagonlike roof that provided interior space for four people but engineers and product planners felt the limitations of the Met's 85-inch wheelbase were too great. They believed a 100-inch wheelbase was needed for the roominess that most buyers demanded. When they explained that to management, Chapin recalled, "Grins lighted up our faces. 'Why, we already have such a car,' one of us exclaimed. 'Our tools are still intact for the 100-inch Rambler.'"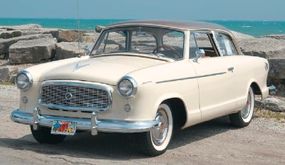 Chapin and then-chairman George Romney believed the small Nash Rambler, last produced in 1955, provided a perfect compromise between a big family car and a small import, so the decision was made to reintroduce it in an updated version. Of course, the fact that AMC was just about broke and couldn't afford tooling for an all-new car made the decision that much easier.
AMC was nearing the end of an epic four-year struggle. Since the corporation's birth in 1954 from the merger of Nash-Kelvinator and Hudson, sales of Hudson and Nash cars had fallen dramatically. Hope for recovery came with the introduction of a new, larger Rambler for 1956. It got off to a slow start but by mid-1957, sales started to climb.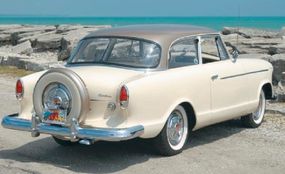 Romney later admitted, "Frankly, we very nearly got knocked out of the automobile business in the process of succeeding in our audacious decision to challenge the Big Three by outflanking their product position." Although 1957 ended with a financial loss, it was clear a turnaround had begun. The Ramblers were restyled for 1958 and new larger Rambler-based Ambassadors made their debut.
To build on AMC's growing momentum, Romney wanted to add a third car line. Thus came the decision to resurrect the 100-inch-wheelbase Rambler as the Rambler American. To see how the American was styled, continue to the next page.
For more information on cars, see:
Classic Cars

Consumer Guide New Car Search

Consumer Guide Used Car Search