The 1936 Dodge D2 Convertible Sedan was part of the newly designated Series D2 lineup, dubbed the "Beauty Winner" line by Chrysler and featured slightly revised styling and a 116-inch wheelbase carried over from 1935.
Classic Cars Image Gallery
In the early 1930s Raymond H. Dietrich left his custom body styling consultancy, Dietrich, Inc., giving up designing custom bodies for Edsel Ford's Lincolns in exchange for a position at Chrysler Corporation. He became the first person at Chrysler to carry the title "stylist."
Dietrich's first assignments at Chrysler were to restyle the radical Airflow, first introduced in 1934, and to pen a moderate alternative to the Airflow's innovative styling. The resulting look debuted on all conventional Chrysler products for the 1935 model year.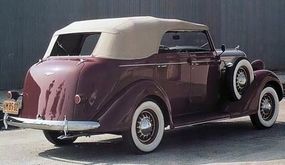 This convertible sedan was one of only 750 cars made.
The D2 series displayed light styling changes to the front end. The hood was lengthened, "Air-Styled" headlamps now matched the body color and were no longer chromed, the grille became less angled and four chrome horizontal bars adorned each side of the grille. The instrument panel was revised and negligible engineering innovations included silent front spring shackles.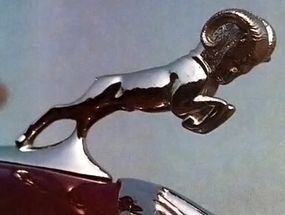 This D2 convertible sported aDodge logo hood ornament.
The convertible sedan's 3,018 pounds were driven by a 217.8-cid inline six-cylinder engine producing 87 bhp. Introduced in 1934, this engine powered Dodges through 1941. Power was transferred via a three-speed manual transmission.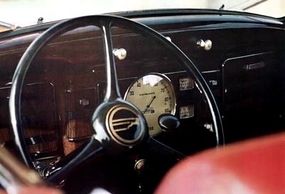 The D2 was powered bya three-speed manual transmission.
The 1936 D2 convertible sedan featured here is one of only 750 produced and is owned by Jim Kelso of Long Beach, California. Optional equipment includes whitewall tires, bumper guards, dual windshield wipers, outside rear-view mirrors, and dual side-mounted spare tires.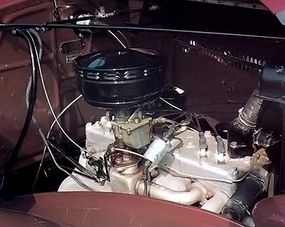 The six-cylinder engine produced 87 bhp.
The five-passenger convertible sedan, which reappeared in 1936 after sitting out the 1935 model year, was the flagship of the 1936 D2 series, topping off a price range of $640 to $995. Dodge nixed the convertible sedan after 1938.
For more information on cars, see:
Classic Cars

New Car Search

Used Car Search