Blackpool, the hometown of William Lyons, founder of Jaguar, is prominently listed in most English travel guides as a thriving coastal resort. Among its attractions are the Pleasure Beach and the "Golden Mile" of hotels, restaurants, arcades, and ballrooms, all under the shadow of Blackpool Tower, a smaller version of that famous metal tower in Paris.
But the guides make no mention of the seaside town's automotive history, and that seems a shame; two of England's best-known nameplates, Jaguar and TVR, were born there, far from the country's industrial heart.
TVR, which for a time was the largest all-English carmaker -- at least until BMW sold its interest in Rover to a UK-based consortium -- remains in this pleasure city on the country's northwest coast. What led TVR founder Trevor Wilkinson to choose the place is unknown, and irrelevant to this story.
William Lyons's reasons for making a start there are known and are as simple as can be: He was born and raised in Blackpool, and when the time came for him to strike out into business, opportunity awaited him virtually across the street from his parents' home.
Lyons's father owned a music store which, though it allowed the family to live in reasonable comfort, seems to have held little attraction for young William. After completing his studies (he later described himself as an "undistinguished" pupil) in 1918, 17-year-old William was apprenticed to Crossley Motors, in Manchester.
He soon left Crossley and returned to Blackpool, where he worked for a time in his father's store and gave serious thought to entering the then-thriving gramophone business. In time, he landed a position as a salesman for the local Sunbeam dealer.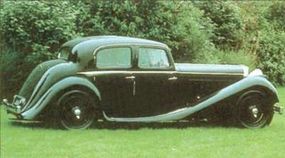 During those days, Lyons's own choice for transport was a motorcycle. He owned several, including a Sunbeam, an Indian, and a Harley-Davidson. Brief ownership of four-wheelers -- in the form of an obscure and unreliable light car called the Buckingham -- left him unsatisfied with what he could afford, and it was quickly back to bikes for the young salesman.
Sometime in 1921, new neighbors moved into a house down the street from the Lyons's digs. The Walmsleys were well-off thanks to the family coal business. Their son, William, had served king and country during World War I, and was spending the first few years thereafter refurbishing surplus military motorcycles and selling them to his friends. Skilled with both metal and wood, he had recently completed a novel sidecar for his own bike, and this caught William Lyons's eye soon after the Walmsleys settled in.
Lyons found that Walmsley, aided by his fiancée, sister, and the occasional friend, was building copies of the bullet-shaped sidecar to sell to people he knew. One of the replicas, which Walmsley dubbed "Swallows," was soon attached to Lyons's current motorcycle. The purchase, it must be said, was made for reasons of both business and pleasure; Lyons saw the loosely organized operation as a his chance to build a viable commercial enterprise.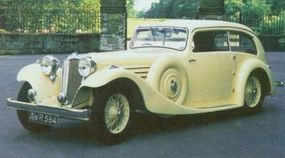 Initially, Walmsley was unreceptive to Lyons's proposal that they form a partnership. Given their very different personalities -- Lyons was aggressive and eager to succeed, while Walmsley was easygoing and unambitious -- it was all too apparent that this could not be a marriage of equals.
Nonetheless, pressured by his wife and his father, Walmsley finally gave in to Lyons's entreaties. Both men's fathers agreed to guarantee a credit line of £1,000 at a local bank. Now the Swallow Sidecar Company was really in business, with one caveat: Lyons was not yet 21 (Walmsley was 30) and so could not legally represent the company during its first several months!
Continue to the next page to learn more about the Swallow Sidecar Company.
For more information on cars, see:
Classic Cars

Consumer Guide New Car Search

Consumer Guide Used Car Search