If ever a car was appropriately named, it was the 1939 Studebaker Champion, the first. The Depression had taken its toll, and the very survival of America's oldest automaker depended on this new budget-price entry for 1939.
After the big Studebaker Presidents lost the battle with Buick for a profitable piece of the prestige market, the Champion represented a risky return to the rough-and-tumble low-price field. But Studebaker had done its homework this time.
Noted industrial designer Raymond Loewy was hired to do the styling, and his prescient battle cry was "Weight is the enemy." The result was a deftly designed, high-mileage car that gave Ford, Chevrolet, and Plymouth a real run for the buck.
A new 164.3-cid six-cylinder engine was designed expressly for the lightweight Champion and made for sprightly performance and sparkling economy. It wasn't long before owners were bragging of 25-mpg economy and 80-mph top speed. In various forms, this durable L-head would be a staple at Studebaker through model year 1960.
Sparked by early reports of its miserly ways, the Champion topped 30,000 sales in its introductory year. Thousands of over-the-road salespeople took a real liking to this economical traveler, and Studebaker enjoyed its best year since 1928.
The 1939 Studebaker Champion featured is a business coupe with a rather unusual assortment of options. In addition to those wide whites, it's equipped with wheel trim rings, an authentic Philco radio, front bumper guards, and an outside rearview mirror.
Most buyers probably didn't outfit their Champions quite so elaborately, but the extra trim does add a touch of glamour to this example of 1939's success car. And handsome it is.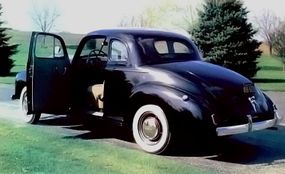 ­ It's no s­urprise Studebaker's new value leader did so well in the recovering 1939 car market. Fords watched the Studebakers go by in mileage derbies, and in contests of speed, Chevys were the breakfast of Champions.