1939 Ford Trucks
While the big news of 1939 was the beginning of World War II, which would have a profound effect on people around the globe, the big news at Ford Motor Company was the introduction of the Mercury.
Aimed at cars like Pontiac, Oldsmobile, Hudson, and Dodge, it gave Ford a competitor in the midpriced field. It also brought a larger V-8 engine of 239 cid and 95 hp, which would quickly find its way into Ford trucks.
Nineteen thirty-nine will also be remembered as the year Henry Ford finally buckled to buyer pressure and replaced his vehicles' old-fashioned mechanically actuated brakes with modern hydraulic units. Virtually all Ford's competitors had made the switch years before, and though Henry didn't trust the new systems, their absence on Ford vehicles was considered a safety detriment.
To close out this decade, it should be mentioned that Canada joined Great Britain in late 1939 by declaring war on Germany, and soon thereafter, the Ford Motor Company of Canada, Ltd., started producing military specification vehicles for the war effort. It was an omen of things to come for the parent company, as the United States would enter the war two years later.
A 1939 Ford COE Stake Bed truck serves as a rolling billboard for a beverage company, spreading the word that Pepsi hits the spot, Nehi comes in your favorite flavors, and Set-Up's "Lithiated Lemon" makes for a good mixer. The truck was probably also handy for deliveries.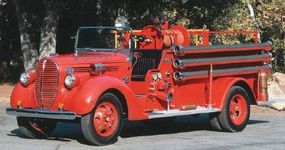 A former Ford Rouge Plant fire truck -- similar to that shown on the previous page -- was later used in Flint, Michigan, for awhile before being restored to its original glory.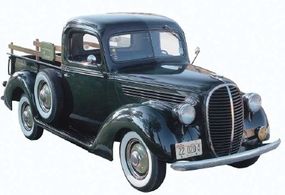 Though it looked little different than its 1938 counterpart, this 1939 Ford pickup boasts the unseen advantage of hydraulic brakes. Most competitors had adopted them years before, but Henry Ford had steadfastly stuck with the old mechanically actuated brakes until public and dealer pressure forced his hand.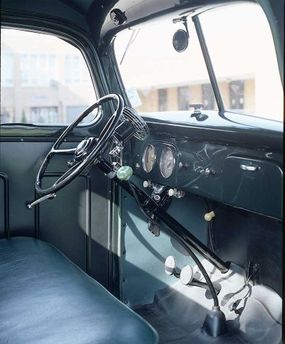 1939 Ford pickup interior
While car dashboards of the period began to show some semblance of "style," Ford truck dashboards remained as flat and featureless as ... well ... a board.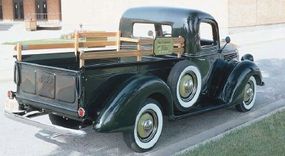 The styling of the 1939 Ford pickup truck closely resembled the 1938 model.
The 1930s started off as a tumultuous decade for the nation. By embracing flexibility and innovation, Ford Motor Company was able to survive the turmoil, and even managed to offer several memorable Ford trucks in the process.
Want more information about Ford trucks? Try these:
1990-1999 Ford Trucks

1960-1969 Ford Trucks

1950-1959 Ford Trucks

1940-1949 Ford Trucks

Consumer Guide Auto New Large Pickup Truck Prices and Reviews

Consumer Guide Auto New Compact Pickup Truck Prices and Reviews

Consumer Guide Auto Truck Buying Guides

Consumer Guide Auto Used Compact Pickup Truck Prices and Reviews

Consumer Guide Auto Used Large Pickup Truck Prices and Reviews