1935 and 1936 Ford Trucks
The year 1935 turned out to be a great year for Ford. Both Ford cars and Ford trucks featured engineering improvements and new styling, and customers responded. When the tally was counted at the end of the year, more buyers chose Fords -- both cars and trucks -- than any other make.
A 1935 redesign for the Ford truck line brought a more curvaceous grille, skirted fenders, and laid-back windshield, which left them closer in appearance to contemporary Ford cars. A little-changed 1936 Ford pickup is shown. Note the difference in fender contour compared to that of the Sedan Delivery above.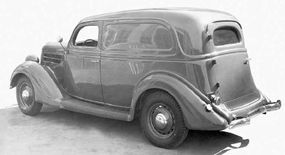 As before, the 1936 Ford Sedan Delivery was based on the car line, and thus carried the fuller fenders and tapered headlight housings of Ford's passenger vehicles. A side-hinged rear door gave easy access to cargo.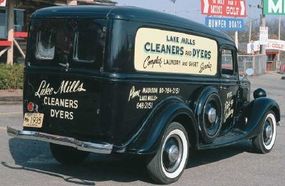 Unlike the Ford Sedan Delivery, the Ford Panel Delivery was truck based, so it carried truck styling -- along with dual side-hinged rear doors, a larger cargo compartment, and higher payload capacity. This 1936 Ford model is nearly identical to the redesigned 1935 Ford. The chrome grille identifies it as a Deluxe version.
Ford trucks in 1937 offered better fuel economy but little change in terms of styling. Read about 1937 Ford trucks in the next section.
Want more information about Ford trucks? Try these:
1990-1999 Ford Trucks

1960-1969 Ford Trucks

1950-1959 Ford Trucks

1940-1949 Ford Trucks

Consumer Guide Auto New Large Pickup Truck Prices and Reviews

Consumer Guide Auto New Compact Pickup Truck Prices and Reviews

Consumer Guide Auto Truck Buying Guides

Consumer Guide Auto Used Compact Pickup Truck Prices and Reviews

Consumer Guide Auto Used Large Pickup Truck Prices and Reviews