1934 Ford Trucks
Due to low demand, 1934 was the last year not only for the four-cylinder engine, but also for open-cab Ford trucks. Since both of these represented the least-expensive alternatives, it was a subtle signal that the economy was finally beginning to improve.
Ford trucks didn't share the car line's sleek 1933 styling alterations, but did get a thicker grille housing and lower headlight bar, as shown on this little-changed '34 pickup.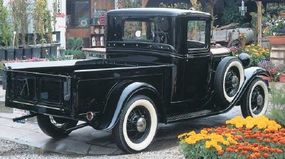 Ford's V-8 had grown so popular that the four-cylinder engine was fazed out during the model year, as was the roadsterlike Open Cab body for trucks.
The Ford Model BB chassis saw varied uses, as evidenced by this 1934 school bus.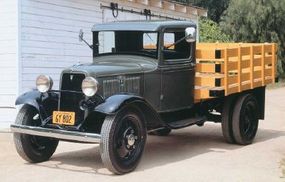 1934 Ford Model BB with Stake Bed
Carrying its original oak Stake Bed is a V-8-powered 1934 Model BB on the standard 1311/2-inch-wheelbase chassis.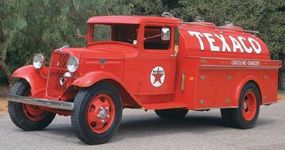 1934 Ford 157-inch chassis
The longer 157-inch chassis hosted this Texaco tanker. A full load of fuel doubled its 7500-lb curb weight.
Ford trucks finally got a facelift in 1935. Check out 1935 and 1936 Ford trucks in the next section.
Want more information about Ford trucks? Try these:
1990-1999 Ford Trucks

1960-1969 Ford Trucks

1950-1959 Ford Trucks

1940-1949 Ford Trucks

Consumer Guide Auto New Large Pickup Truck Prices and Reviews

Consumer Guide Auto New Compact Pickup Truck Prices and Reviews

Consumer Guide Auto Truck Buying Guides

Consumer Guide Auto Used Compact Pickup Truck Prices and Reviews

Consumer Guide Auto Used Large Pickup Truck Prices and Reviews