1932 Ford Trucks
During the early 1930s, chief Ford truck rival Chevrolet offered a six-cylinder engine, which was considered a competitive advantage over the four-cylinder found in the Ford Model A. So when Henry Ford began brainstorming a successor to the A, he decided to trump Chevrolet with a V-8 engine.
When it was introduced in March 1932, the V-8-powered Model 18 was a sensation right out of the gate. A four-cylinder version, called the Model B, was also offered, since it was felt many people would be attracted to its greater economy -- and lower price. But so popular was the V-8 that the four-cylinder would quickly fade from the scene.
The problem with introducing a car in 1932 was that this was the worst year of the Great Depression. Not many people were interested in buying a new Ford, V-8 engine or no. Yet the powerplant gave the low-priced car an upmarket feature not offered by rivals, which undoubtedly helped sales.
Ford had originally planned for the V-8 to be used in cars only, not in trucks -- odd, since it would seem to be a natural for heavy-duty haulers. But this plan quickly changed when truck buyers began clamoring for the new engine.
At about 800 Depression-era dollars, the Ford Station Wagon was an expensive proposition when a Fordor sedan started at $540, but the wagon seated eight vs. five for the sedan.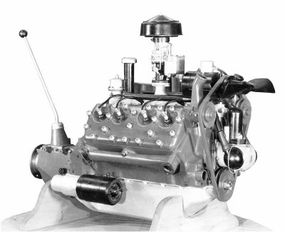 Star of the 1932 line was Ford's new flathead V-8. Displacing 221 cubic inches and producing 65 horsepower, it was offered alongside an improved four-cylinder, now rated at 50 hp.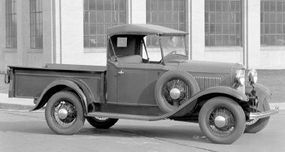 Prototype of Ford Open Cab Pickup
Thanks in part to a wheelbase stretched nearly 3 inches to 106, Model B pickup beds grew more than 10 inches in length for 1932 to nearly 70 inches. Shown is a prototype of the Open Cab Pickup, of which few were built.
Although Ford cars underwent radical new styling, few Ford trucks received the same attention in 1933. Read about these 1933 Ford trucks in the next section.
Want more information about Ford trucks? Try these:
1990-1999 Ford Trucks

1960-1969 Ford Trucks

1950-1959 Ford Trucks

1940-1949 Ford Trucks

Consumer Guide Auto New Large Pickup Truck Prices and Reviews

Consumer Guide Auto New Compact Pickup Truck Prices and Reviews

Consumer Guide Auto Truck Buying Guides

Consumer Guide Auto Used Compact Pickup Truck Prices and Reviews

Consumer Guide Auto Used Large Pickup Truck Prices and Reviews