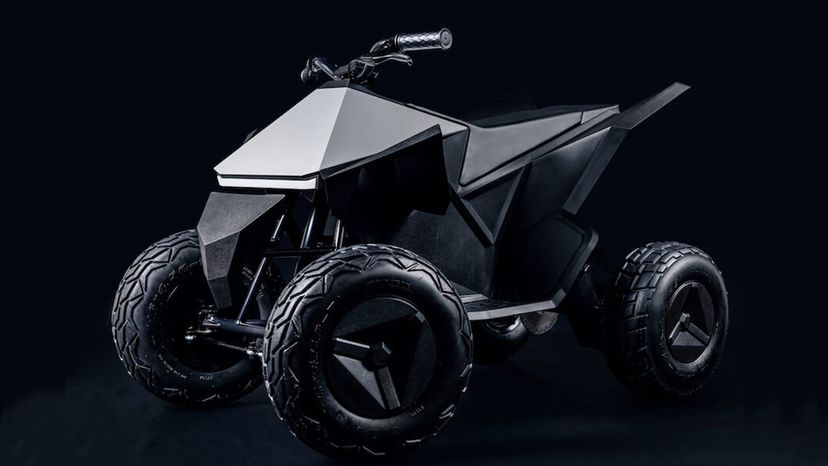 You might remember the splashy debut of the Tesla Cybertruck, with its sharply folded, origami-like angles. Well, origami with a postapocalyptic vibe, maybe. You might also remember that at the end of the Cybertruck's unveiling, company founder Elon Musk announced that Tesla had made a matching all-terrain vehicle, and it came rolling out of the back of the truck.
Now fans of the futuristic design — or at least their kids — can take a turn on the Cyberquad, an electric four-wheel vehicle for kids ages 8 and up. The ATV has a steel frame, adjustable suspension, air-filled tires and rear disk brakes, so it can do some light off-roading. The lithium-ion battery has up to 15 miles (24 kilometers) of range, and it recharges in about five hours. Parents can set the speed to either 5 or 10 miles per hour (8 or 16 kilometers per hour), depending on the rider's age and experience.
The Cyberquad carries a $1,900 price tag with no guarantee of holiday delivery, but those facts didn't seem to stop anyone. It went on sale Dec. 6, 2021, and it was out of stock as of Dec. 7.
The Tesla-branded and designed all-terrain vehicle is actually manufactured by the toy company Radio Flyer. You might know the company better for their classic little red wagon, but it also makes powered toys. The Ripper, for example, is a ride-on electric-powered toy that looks like an ATV for little kids, but it doesn't have air-filled tires or shocks like the Cyberquad. It is, however, far less expensive, at about $500.
The Cyberquad isn't the first time Radio Flyer has collaborated with Tesla either. It also makes a kid-version of the Tesla Model S powered by the same lithium-ion battery as the new ATV. Like the grown-up version of the Model S, there's a base model and an available upgraded battery. But like the Ripper, prices for this car start at about $500, a quarter of the price of the Cyberquad.