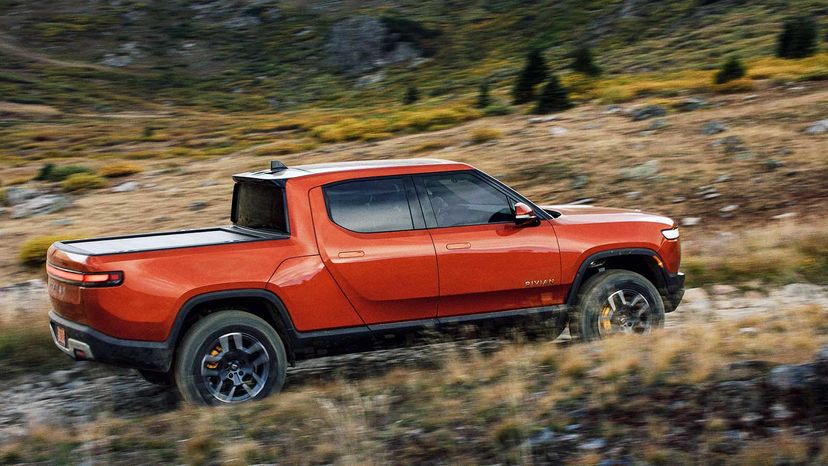 The 2022 Rivian R1T goes from 0 to 60 miles per hour (96.6 kilometers per hour) in 3 exhilarating seconds.
Elliot Ross/Rivian
Electric car manufacturer Rivian has rolled out its first consumer-ready vehicle and, as befits an industry in which you have to shock to sell, it's a head-turner.
Literally groundbreaking in design and in performance — in shallower terms, it plain looks like something out of the future — the all-electric R1T pickup truck is a 7,000-pound (3,175-kilogram) behemoth that will pull more than its weight (up to 11,000 pounds or 4,990 kilograms), cruise over boulders easier than any Jeep, slosh through 3 feet (0.9 meters) of water with ease, store enough gear for weeks out in the bush, and giddyup from 0 to 60 miles per hour (96.6 kilometers per hour) in 3 exhilarating seconds, or a lot quicker than it took you to read this paragraph. And it does all that while being super eco-friendly.
The R1T is an impressive feat of engineering and perseverance, one that immediately poses an unavoidable question: In the historically brutal world of automotive manufacturing — anybody remember Studebaker? Oldsmobile? Saturn? DeLorean? — is simply building a good product enough?
A Crowded Market
Car manufacturing always has been a tough gig. There's huge overhead. Cutthroat competition. A fickle public. The heavy hand of regulators. Only the hardiest companies stick around for any length of time. It takes a little luck, sometimes, to succeed, and always a ton of money.
Car manufacturing in a new world churning out electric vehicles (EVs) is even more difficult. Tesla investors can breathe a little easier these days, with the company now worth somewhere around $1 trillion. But remember: Tesla began in 2003 with next to no experience on the production end of the puzzle. It didn't prove it could make a single car until it launched a limited run of the first-edition Roadster in 2008, and didn't really offer up a car for the masses — one that was affordable and could actually begin to make the company profitable — until 2016's Model 3 and 2019's Model Y. It's been a long time coming for Tesla and its mercurial chief, Elon Musk. And the trip, clearly, is not over.
Rivian, founded in 2009 by car enthusiast and MIT grad Robert "RJ" Scaringe, has taken a different path.
"They are unique in that they are to this point a small electric-vehicle-only truck manufacturer," says Brett Smith, the director of technology for the Center for Automotive Research, a nonprofit industry-driven think tank based in Ann Arbor, Michigan. "But they have also tried over their time to kind of walk that line between the old-school automotive world and the tech auto world."
Rivian is based in Irvine, California, and has facilities in the old-school car capital of the world, Michigan, and in the Bay Area of California. A few years ago, instead of building its own new-school manufacturing plant, the company bought and retrofitted a former Mitsubishi facility in Normal, Illinois. The company also has a presence in the United Kingdom, and has plans to build a second state-of-the-electric-art manufacturing site in either Georgia, east of Atlanta, or the Fort Worth, Texas, area. Undoubtedly, the team has learned from the difficulties of some who came before; Tesla, famously, did some Model 3 production in a tent in Fremont, California.
"They are probably more focused on the manufacturing aspect and the design and development aspect than maybe some of their predecessors," Smith says of Rivian.
Still, the challenges are head-spinning. The R1T may be the first electric-only pickup truck for the masses, but Tesla has designed and expects to start delivering its Texas-built Cybertruck in 2022. GMC's Hummer EV is coming hard. But maybe the most daunting is Ford, whose gas-powered F-series has been the most popular pickup truck in the U.S. for the past 44 years. The first trickle of new Ford F-150 Lightning trucks is due in 2022, too.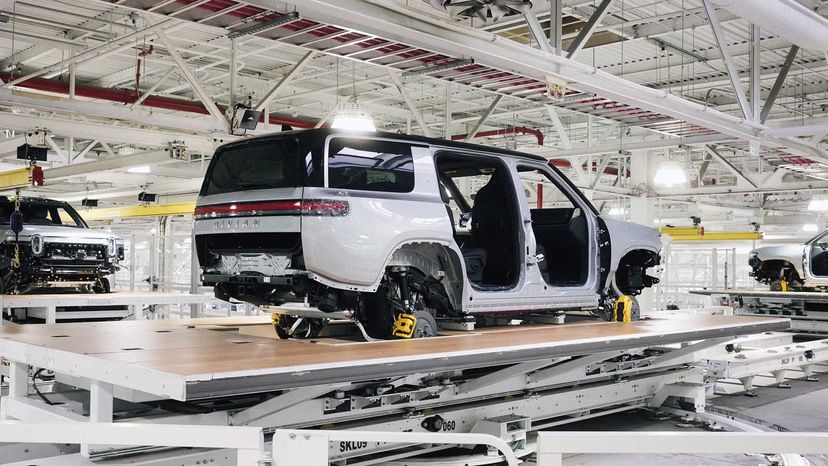 Rivian currently has a manufacturing plant in Michigan. It's also eyeing Atlanta and Fort Worth, Texas, to build its second state-of-the-art manufacturing facility.
Rivian
Money to Burn ... For Now
Ford, perhaps ironically, is playing both sides of this electric fence. It owns a 12 percent stake in Rivian, and it's not alone among deep-pocketed backers. Amazon also has invested millions in Rivian — it owns 20 percent — and has ordered thousands of electric delivery vehicles over the next several years.
In early November 2021, Rivian began to sell shares of the company to the public, and was an immediate hit, becoming the biggest initial public offering (IPO) of the year. It raised about $12 billion that will help fund growth, and analysts immediately pegged its value at more than $100 billion — more than Ford, more than General Motors, more than fellow EV company Lucid. At this writing, only Tesla is worth more among American car manufacturers.
According to The New York Times, Rivian has back orders for some 55,000 R1Ts and its soon-to-come sport utility vehicle-like sibling, the R1S. (Both, by the way, start at around $70,000, though by the time they roll into your garage, figure that to price to be more.) The Illinois plant may be able to crank out 150,000 vehicles a year, and when a second plant comes online — maybe 2023 or 2024, probably later? — that number could easily double. "It's been a long time coming," Smith says. "They've spent a lot of money. But they got there."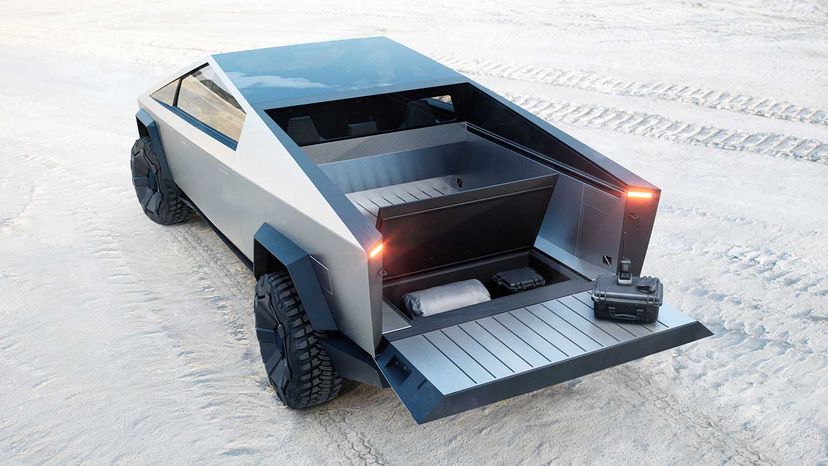 Tesla's Cybertruck could be one of Rivian's biggest competitors when it hits the market, supposedly in 2022.
Tesla
Challenges Ahead
For now, though, Rivian has immediate challenges to face. Following the lead of Tesla, Rivian isn't planning traditional auto dealerships, so the company will have to devise a strategy to service its vehicles. The coronavirus pandemic will continue to cause headaches, making it more difficult to obtain everything from computer chips to workers on the production lines. The uncertainty surrounding the pandemic may affect a so-far promising demand for EVs, too.
And then there's the competition. Always the competition.
As much as any newcomer to this bold new EV space, Rivian seems poised to take all comers, and its flagship truck (the Times calls it an "electric David)") as its first salvo. If Rivian can turn truly successful, it may be because it has successfully learned how to blend old-school know-how into this bold new space.
"That balance is being shown by Tesla," Smith says, "and Rivian, you can argue, is kind of that cross between the two, where they have a little more of the traditional thinking in terms of understanding the product process and what needs to be done, but also understanding that this is a revolutionary product."
Can Rivian make it where others have failed? Is it the next Tesla, maybe? Or Edsel? Time, as always, will tell.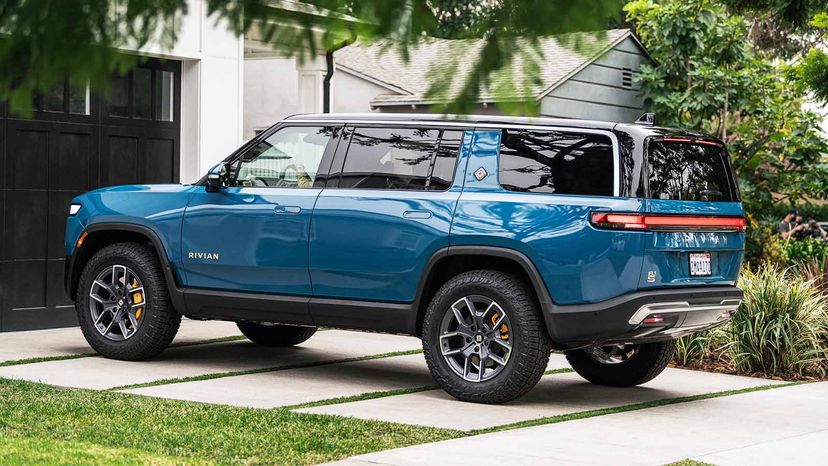 The 2022 Rivian R1S SUV has an EPA estimated 316-mile (508-kilometer) range.
PETER BOHLER/Rivian