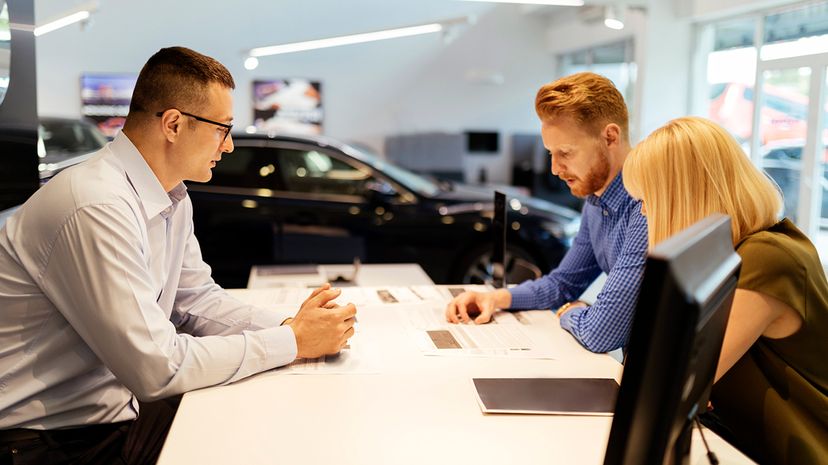 As much as we all love the car-buying experience, there could be big changes on the horizon. In mid-October 2017, two car makers at opposite ends of the market announced they're making adjustments to the way consumers buy their cars.
Hyundai Motor Co. plans to streamline its car-buying process by first making prices more transparent. This alone should alleviate some of the advantage its salespeople have over consumers. Buyers also will be able to complete most paperwork upfront from the comfort of their own homes, and if they have a change of heart after signing the dotted line, Hyundai will offer a three-day money-back guarantee on their purchase. The new plan kicks off in select Hyundai dealerships in Florida and Texas, and is expected to roll out across the United States in early 2018.
Porsche is also changing things for its customers. Starting in November, the luxe sports car company will begin offering Porsche Passport, a new subscription-based app for residents of metro Atlanta. (Read all about the subscription service in our complete story here.) Members can drive certain models (based on membership tier), swapping out cars without having to deal with registration, mileage or insurance. Porsche is partnering with Clutch Technologies, which already offers third-party subscription services in some areas. Porsche Passport isn't cheap — it starts at $2,000 a month — but it's an interesting new way to drive a car without buying one.
Of course, these two announcements definitely don't signal the death of the traditional car-buying process. Dave Sloan, the president of the Chicago Auto Trade Association, says franchise car dealerships will just roll with the punches, as they've always done when there have been cultural or technological shifts.
Sloan explains that it takes a long time for small changes to cause a larger shift in direction, and therefore, dealerships have plenty of time to adapt.
"I think those are definitely the evolutions in the buying process, but really a continuation of what we've seen over the last 20 years," Sloan says via email. "More and more information about buying a car has become available online. I think we'll continue to see more of that."
The timing of the press releases from Hyundai and Porsche, in the same week, were probably little more than coincidence, but inspired a lot of conversation. Sloan explains that in the case of Hyundai, the dealerships still need to follow through on the customer's online experience, and Porsche dealers still need to manage inventory as subscription customers are swapping out one vehicle for another.
And, of course, both scenarios still require the cars to be maintained and repaired. Sloan says Hyundai showrooms, in particular, are already accustomed to their customers' expectations of a streamlined buying process. Even when it becomes more common to buy a car online from start to finish, most people will still want to see that car before signing on the dotted line.
"You still need a place to pick up and test drive your vehicle, even if you are doing most of the transaction online," Sloan says. "The dealers are an important part of that equation because of everything they do on a daily basis."
And let's not forget Tesla. The electric car company from California made waves when it released its first mass-market vehicle, the Model S sedan. Tesla is an interesting case, because at the time of the Model S rollout, the company sold vehicles in relatively low volume, and these expensive, fully electric cars tended to attract buyers who were open to a different kind of experience.
Tesla owns its own showrooms, instead of using the traditional franchise model. Customers can visit a Tesla showroom to check out the cars and go for test drives. The Tesla showrooms will place orders for cars, but a lot of Tesla customers buy their cars online after driving them. This model actually got Tesla sales banned in Texas, since state law dictates that only third-party sellers (that is, franchisees) are allowed to sell cars.
Such laws are common, but Texas got a lot of attention for its 2015 attempt to slow Tesla's roll. The law in Texas is so strict that Tesla showroom employees were not even permitted to discuss pricing with potential customers. In 2013, Tesla fought back against similar laws in Virginia, North Carolina, Virginia, Texas, Minnesota and New York. Sloan says these laws are for the benefit of consumers as well as dealership owners.
"Each state in the union has a franchise law that licenses dealers," he says, "and I think they believe that the dealers bring a lot of value to the big purchase that buying a car represents."
Tesla, along with some industry experts, suggested that dealerships simply felt threatened by the fresh-faced, innovative newcomer, and leveraged government power to stifle the company's ability to reach customers. Many of these states eventually amended their laws to allow Tesla to pursue its business model, which marked the first recent significant change in the dealership model.
The traditional method of buying a car might be coming to an end, thanks to these car makers' attempts to revolutionize the process, but dealerships themselves will likely be around for quite some time. Even if customers prefer to buy a car online, or subscribe to an automaker's entire lineup instead of committing to a specific model, franchise dealerships are still efficient ways to make the cars accessible for testing and comparison shopping, and providing maintenance and repairs.
In short, car buyers might be excited that changes are coming to the stressful and time-consuming experience of buying a car, but that excitement might be premature. However, if these strategies from Hyundai, Porsche and Tesla prove to be successful, they could eventually be adopted by other automakers.