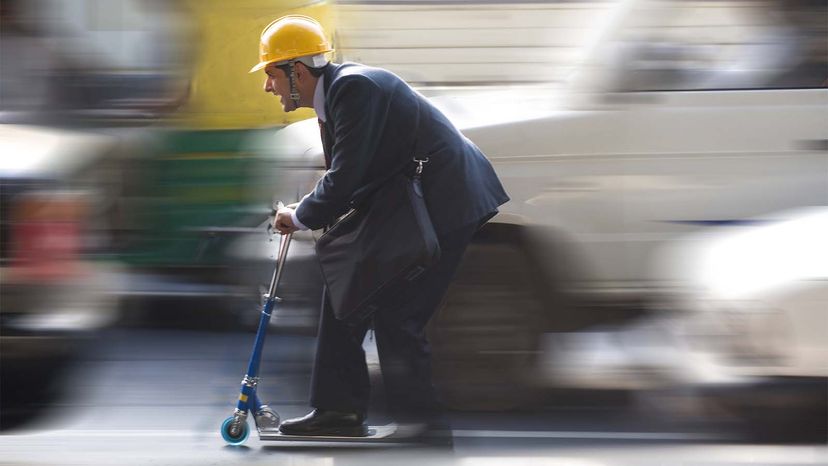 You're not in the mood to hail a cab or ping an Uber, but you're not quite up for walking 12 city blocks, either. What's a pedestrian to do?
The answer may be as close as your smartphone. Pay-as-you-go electric scooters are a new convenience popping up in urban centers. They can be unlocked for as low as $1 with a smartphone app, and users can then whir around the city at up to 15 miles per hour (24 kilometers per hour) for a nominal fee per minute. The motorized rides require less effort than a bicycle, go much faster than walking and are way less expensive than paying for traditional ride-sharing vehicles. And, because the scooters are electric, you can feel pretty good about your environmental impact, too.
So what's the downside? Turns out, electric scooters may be riding the next wave of vehicular injuries — and those injuries are only recently being tracked. In 2016, the Consumer Product Safety Commission reported 3,300 scooter injuries in the U.S., with a quarter of those injuries affecting the head and face. In short, the electric scooter revolution is becoming a public health concern.
Lately, electric scooter rentals have been turning up in cities before local officials can put regulations in place about their usage. San Francisco, for example, is preparing to issue permits to at least five scooter companies in August 2018 alone — after issuing temporary cease-and-desist letters to the companies operating them. Many are still debating whether helmets should be a requirement, how old one must be to operate an electric scooter and whether specialized licensing should be a prerequisite.
Like many cities, San Francisco needed time to study the new transportation mode and make determinations about its safety. Meanwhile, the California state legislature is considering a measure to relax helmet laws. Assembly Bill 2989 would require only riders 18 and younger to wear protective headgear.
The global electric scooter market is poised to reach $37 billion by 2024. Two of the largest scooter rental companies, Bird and Lime, have opened ride-share rentals in more than two dozen U.S. cities in 2018, and investors are taking note. Google's parent company, Alphabet, and Uber recently invested $335 million in Lime, and Bird has been seeing similar responses.