Materials and Weight
The Porsche Carrera GT is both light and sturdy. Instead of metal, its chassis is made of strong, lightweight, carbon-fiber-reinforced plastic (CFRP), also known simply as carbon fiber. Thanks to this composite material, the entire car weighs only 3,043 pounds (1,380 kg). Also because of the carbon fiber, Porsche can only produce two per day. Crafting individual parts out of carbon-fiber threads is a tedious process. See The Japan Carbon Fiber Manufacturers Association to learn about the manufacturing process.
Porsche has developed a new, more responsive clutch technology for the Carrera GT. The Porsche Ceramic Composite Clutch (PCCC) has a rotating mass approximately 10 times lighter than other clutches (see How Clutches Work). The Carrera GT's brakes are also unique to Porsche. The Porsche Ceramic Composite Brake (PCCB) system is lighter than conventional brakes and is extremely responsive: The Carrera GT can go from 100 mph (160 kph) to a halt within just a few feet of road.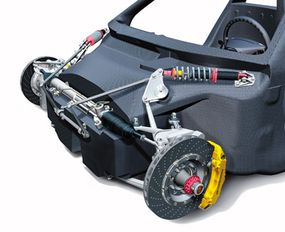 Front-wheel brakes (PCCB), steering and suspension systems
Even the wheels on the Carrera GT are ultralight. They are made of forged magnesium rather than the conventional aluminum alloy. A tire-pressure monitoring system in each of the four wheels automatically detects when air pressure is low and signals a warning to the driver. A tire-repair kit in the car can seal any leaks, avoiding the need for a spare tire.