LaSalle Cars of the 1940s
The 1940 model year brought modified styling that marked a high point in LaSalle's 14-year history, plus the make's first two-series lineup in a decade. The design leader was the plush new Series 52 Special bearing Harley Earl's latest "torpedo" look. While Cadillacs retained bullet-pod headlamps on the hood sides, the 52's new sealed beams (shared with other 1940 Detroiters) moved down into the fenders. Body lines were gently rounded and clean, interiors were more spacious on a three-inch longer wheelbase, and windows became even larger.
The trademark LaSalle grille arguably reached its pinnacle: still slimmer than Cadillac's but artfully shaped. Like the '39s, the 1940 models wore vertical brightwork in the "catwalk" areas between grille and headlamps (another Earl idea), but the catwalks were now wider and fully integrated with the fenders.
Along with the 1940 Series 50, the new 52 Special offered a coupe and four-door sedan, now with fully integral trunks. The 50s, which included a two-door sedan, retained the basic '39 appearance. Though boxy next to the new Specials, they were nonetheless attractive, with the longer wheelbase and smoother front. The season's most-elegant LaSalles were unquestionably the Special convertible coupe and sedan that arrived midyear. Minor changes added five horsepower to the 322 L-head V-8, lifting output to 130.
But by now, LaSalle had been crowded out of its once-exclusive price niche. True, its 1940 spread was fairly broad, running from the $1240 Series 50 coupe to the $1895 Special convertible sedan. But a genuine Series 62 Cadillac could be had for as little as $1685 that year; Buicks listed at $895-$2199. And although LaSalle accounted for almost two-thirds of Cadillac's total 1940 volume -- 24,130 out of some 37,000 -- it ranked only slightly ahead of Lincoln and remained far behind Packard. It now seemed more logical to offer a lower-priced Cadillac rather than a junior line with less prestige. The division did precisely that for 1941, replacing LaSalle with the new entry-level Cadillac, Series 61.
The decision to drop LaSalle ultimately proved correct. Spanning a $1350-$1535 range, the Series 61 sold 29,250 copies its first year, then was gradually outpaced by the costlier 62s. But the 61 remained in premium-price territory to prevent a cheapening of Cadillac's image. Postwar prosperity rendered it unnecessary after 1951. By that point, Cadillac had become America's luxury sales leader by far.
Before the decision to drop LaSalle, GM Styling had prepared a prototype 1941 design. A torpedo-style fastback four-door sedan, it was a pretty car with the traditional slim grille and "catwalk" fender trim, plus thin horizontal parking lights, spinner hubcaps, and a revival of the early LaSalle radiator badge -- an "LaS" monogram in a circle.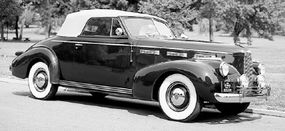 The Series 52, LaSalle's last production design, was pushed outof its market by other companies as well as Cadillac itself.
Memories of LaSalle's distinction, refinement, and class continued to exert considerable magic within GM Design long after World War II, and the name popped up in connection with several projects that led some to believe a revival was imminent. The first of these were the "LaSalle II" hardtop sedan and two-seat roadster created for the 1955 Motorama. Though strictly for show, they wore grilles composed of vertical slats reminiscent of the 1940 catwalks, plus traditional LaSalle heraldry. The name surfaced again for what became the 1963 Buick Riviera, and only at the last minute was LaSalle rejected for Seville as the moniker for Cadillac's new compact sedan of mid-1975.
Will LaSalle ever be reborn? Probably not, but it's a nice thought.
For more on defunct American cars, see: