Brothers Joseph, Robert, and Ray Graham were "Indiana sharpies," to quote auto historian Jeffrey Godshall -- farm boys with "dreams beyond the bucolic life." Sharp they were. After starting a glassmaking business that grew to become Libbey-Owens-Ford in 1930, the brothers built trucks for Dodge.
They did so well that by 1926 they were running Dodge's entire truck organization. Then, suddenly, they left and bought the declining Paige Motor Company in 1927 to build their own cars. The first appeared the following year under the Graham-Paige banner, which continued through 1930. The name was then changed to simply Graham, though Paige remained in the company name and on its commercial ­vehicles.
The Grahams prospered with cars as quickly as they had with trucks, volume soaring to more than 77,000 in calendar 1929. By that time they'd set up a vast new factory in Dear­born, Michigan, plus facilities in Indiana and Florida. How­ever, 1929 would be the firm's production peak.
Graham's 1930 line was expansive, comprising Standard and Special Sixes on a 115-inch wheelbase and Standard, Special, and Custom Eights on spans of 122, 134, 127, and 137 inches. Engines were conventional L-heads: 207- and 224-cubic-inch inline-sixes with 66/76 horsepower as well as 298.6- and 322-cid straight-eights with 100/120 bhp. Among numerous body styles were beautiful long-wheelbase Custom Eight town cars and limousines by the LeBaron studios at Briggs Manufacturing Company. All models featured Graham-Paige's famous four-speed transmission.
This basic lineup continued through early 1932, joined in the spring of 1931 by the hopefully named "Prosperity Six," a cheap four-model series priced as low as $785. But the Depression was on, and Graham-Paige failed to prosper. Model-year 1930 car production sank to about 24,000, then slid to 20,000 for 1931.
Undaunted, the Grahams came back for 1932 with the Blue Streak Eight. This mounted a generous 123-inch wheelbase that perfectly suited magnificent new styling by Amos Northup of the Murray Corporation. Northup had just created the 1931 Reo Royale and was also responsible for the earlier Hupp Century. The Blue Streak was no less stunning. Smooth, ultraclean bodies hid unsightly chassis components, windshields tilted jauntily back, a radiator with tapered vertical bars and no cap fit flush with the hood, and fenders were artfully drawn down to hug the wheels -- the "skirted" treatment was a first for a production car.
The Blue Streak bowed with only a coupe, four-door sedan, and convertible coupe. All carried a 90-bhp 245.4-cid eight with an aluminum head and pistons. Beneath the trend-­setting bodies was an equally advanced chassis with straight side rails, outboard rear springs, and "banjo" rear-axle mounting. The result was exceptional handling stability combined with great ride comfort, abetted by adjustable shock absorbers and, a bit later, low-pressure tires. Standard and Deluxe trim was offered at attractively low prices ranging from $1095 to $1270.
In good times, the Blue Streak would have sold well. But 1932 wasn't a good year for anyone in Detroit, and Graham's calendar-year volume slid to 12,967. Most were Blue Streaks and conventionally styled Sixes.
The Blue Streak was renamed Custom Eight for 1933, when its little-changed basic design spread to all "second-series" Grahams. Competitors' styling began mimicking the Blue Streak, so Graham proclaimed itself "the most imitated car on the road." With almost every 1933 American car wearing ­fender skirts, they were right. Below the Custom were a new 113-inch-wheelbase Standard Six and 119-inch Standard Eight. All models rode stronger frames with front K-brace and sported gracefully vee'd front bumpers. Yet for all this quality and appeal, Graham-Paige production sank again, hitting 11,000 for the ­calendar year, though the firm somehow eked out a tiny $67,000 profit.
Still hoping for better times, Graham sprang a surprise for 1934: the Supercharged Custom Eight. Tagged as low as $1295, it was America's first moderate-cost supercharged car. Boosting its newly bored 265.4-cid engine was a Graham-built centrifugal blower that helped deliver 135 bhp -- good for ­lively midrange urge and 90 mph all-out. Daredevil driver "Cannonball" Baker drove a Supercharged Custom cross-country in 53 hours, 30 minutes; a solo record that would stand until 1975. Baker's feat also testified to the utter reliability of the Graham blower. Over the next six years, Graham would build more supercharged cars than any company ever had before.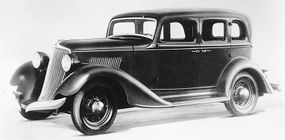 Other Grahams saw little change through the "first-series" 1935 models, though the lineup was juggled several times and built-in trunks were a notable new option for sedans (at $35). With calender 1934 output rising to 15,745 cars, things seemed to be looking up.
For more on defunct American cars, see: