1986 Chevrolet Monte Carlo
The hot 1986 Chevrolet Monte Carlo SS shows off the
wheel design that was new that year.
The 1986 Chevrolet Monte Carlo line was joined by a luxurious new LS model with a distinctive aerodynamic nose, flush-mounted composite headlights, and wraparound taillights.
Every 1986 Chevrolet Monte Carlo got a new instrument panel redesigned to accept Delco electronic
radios
, and gauge graphics were revised. Retuned suspensions with stiffer shocks were found throughout the line, while the SS got new aluminum wheels.
Though engine choices were the same as before, power ratings were revised somewhat. The standard 4.3-liter V-6 gained 10 horsepower to 140. The base 5.0-liter V-8 lost 15, dropping to 150. The H.O. 5.0 V-8 in the Monte Carlo SS was unchanged at 180.

The V-6 came standard with a three-speed automatic transmission, with a four-speed automatic optional; the V-8s came only with the latter.
A special Monte Carlo SS model arrived at midyear in very limited numbers. Called Aerocoupe, it featured a sloped rear window that made the body more aerodynamic for use in NASCAR (National Association for Stock Car Auto Racing) competition.

In order to make any such modification legal for track use, NASCAR rules stated that the manufacturer had to build 200 copies for sale to the general public -- and that's just what Chevrolet did. Those 200 have since become coveted collectors' items.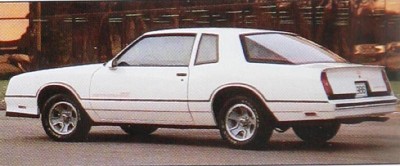 The 1986 Chevrolet Monte Carlo SS Aerocoupe was
a limited-edition fastback-glass coupe produced to
qualify the shape for NASCAR competition.
1986 Chevrolet Monte Carlo Facts


| | | | |
| --- | --- | --- | --- |
| Model | Weight range (lbs.) | Price range (new) | Number built |
| Monte Carlo | 3,138-3,440 | $10,241-$14,191 | 119,210 |
For more picture-packed articles about Chevys and other great cars, see:

Classic Cars: Learn about more than 400 of the world's finest classic and collectible automobiles.
Muscle Cars: Look back at tire-smoking Chevys and scores of other machines from the golden age of American high performance.
Sports Cars: Discover the pleasure of sports motoring at its purest in these captivating articles on the best sports cars from around the world.
Consumer Guide Automotive: Here's your source for news, reviews, prices, fuel-economy and safety information on today's cars, minivans, SUVs, and pickups.
Consumer Guide Used Car Search: In the market for a used Chevy or virtually any other pre-owned vehicle? Check out these reports, which include safety recalls and trouble spots.
All Chevrolet Monte Carlos: The Chevrolet Monte Carlo continued in production through the 2007 model year. Learn about the modern history of this stylish Chevy coupe.
Advertisement