1964 Chevrolet Chevelle and Malibu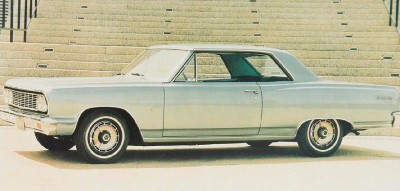 The 1964 Chevrolet Chevelle was distinguished by
nicely proportioned angles. Shown is the sporty 1964
Chevelle Malibu SS two-door hardtop.
The 1964 Chevrolet Chevelle, Chevrolet's new midsize car, boasted clean lines and appetizing proportions. On a 115-inch wheelbase, it sat squarely between the compact Chevy II and the full-size line.

Upright in style and conventional in engineering, the A-bodied 1964 Chevrolet Chevelle was closer in size and shape to the "classic" 1955-1957 Chevys -- and a response to Ford's recently introduced Fairlane. Curved side glass was one of its few special features, but a Chevelle was nearly as roomy as an Impala.

Chevelles came in two series: 300 and fancier Malibu. Sales started off strong, suggesting that Americans might be developing a taste for compromise in car size. Chevelles were billed as "a good foot shorter and a few inches narrower than the big cars."

A quartet of engine choices included 194- and 230-cubic-inch sixes (120 and 155 horsepower), a 195-horse 283-cubic-inch V-8, and a 220-horsepower version of the 283 with dual exhausts and four-barrel carburetion.

A four-speed floor-shifted gearbox could replace the usual three-speed, overdrive, or two-speed Powerglide automatic. During the model year, a 327-cubic-inch V-8 capable of turning out 250 or 300 horsepower became available.

"Everyone has a bit of swashbuckler in him," the sales catalog proclaimed -- which could be satisfied with a Super Sport version of the Malibu Sport Coupe or convertible. Priced at $162, the SS package included front bucket seats in an all-vinyl interior, full gauges, console and big round knob for the floor shift, plus radial-pattern wheel covers borrowed from the Impala SS.

In SS form, the usual beltline trim strip was deleted for a cleaner bodyside look. Nearly half of Malibu coupes and convertibles were equipped as Super Sports -- 76,860 in all -- representing more than a fourth of total Chevelle output. A heavy-duty suspension added less than five dollars.

The El Camino car-pickup returned after an absence of several years, but now as part of the Chevelle line. El Camino Customs even included bucket seats and a console, as on the SS.

Anxious to fill the gap between the full-size Chevys and the compact Chevy II and Corvair, Chevrolet introduced the intermediate-size Chevelle for 1964. The car was offered in two series, 300 and Malibu. From the start, the Chevelle was distinguished by its perfectly proportioned design that seemed "right" from every angle.

Wheelbase was 115 inches, five inches longer than that of the Chevy II and four inches shorter than the full-size cars.

With the Chevelle's introduction, Chevy now offered 43 models in five distinct car lines. The top-level Chevelle was the Malibu SS, which came standard with an all-vinyl interior, center console with Powerglide or four-speed manual transmissions, bucket seats, functional dash gauges, and SS emblems on the door panels and glovebox.

Available V-8s included a 220-horsepower 283, 250-horsepower 327, and (after mid-year) a 300-horsepower variant of the 327.

Other '64 Chevelle models included the Malibu SS convertible, Series 300 4-door Sedan, and Series 300 4-door wagon.

The 1964 Chevrolet Chevelle included
this Malibu SS convertible model.
1964 Chevrolet Chevelle and Malibu Facts
| | | | |
| --- | --- | --- | --- |
| Model | Weight range (lbs.) | Price range (new) | Number built |
| Chevelle 300 | 2,250-3,270 | $2,231-$2,674 | 68,300 (approx.) |
| Chevelle Malibu | 2,850-3,365 | $2,340-$2,852 | 149,000 (approx.) |
| Chevelle Malibu SS | 2,875-3,145 | $2,538-$2,857 | 76,860 |
For more picture-packed articles about Chevys and other great cars, see:
Classic Cars: Learn about more than 400 of the world's finest classic and collectible automobiles.
Muscle Cars: Look back at tire-smoking Chevys and scores of other machines from the golden age of American high performance.
Sports Cars: Discover the pleasure of sports motoring at its purest in these captivating articles on the best sports cars from around the world.
Consumer Guide Automotive: Here's your source for news, reviews, prices, fuel-economy and safety information on today's cars, minivans, SUVs, and pickups.
Consumer Guide Used Car Search: In the market for a used Chevy or virtually any other pre-owned vehicle? Check out these reports, which include safety recalls and trouble spots.
All Chevrolet Malibus: The Chevrolet Malibu nameplate didn't die with the 1983 model. Get the lowdown on the new-age Malibu that launched for 1997 and continues today.
How Chevrolet Works: Get the inside story of one of America's greatest automotive marques in this lavishly illustrated history of Chevrolet, beginning with its founding in 1911.
Advertisement