The Body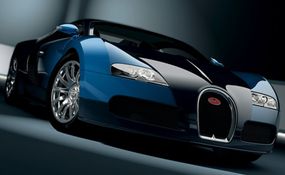 According to one of the Veyron's designers, the biggest challenge in creating the Veyron was the aerodynamics. How do you keep a 250-mph passenger car on the road?
An F-1 car or a Champ car can travel at 250 mph or more, but they have a uniquely designed body, a single driver lying in a reclining position, just an inch or so of ground clearance and an aero-package made up of large wings to generate massive downforce. The Bugatti, on the other hand, is trying to look like a normal car and seat two passengers.
The Veyron's dimensions help to some extent. The car is 79 inches (200 cm) wide, 176 inches (447 cm) long and only 48 inches (122 cm) high. Keep in mind that a Hummer 2 is 81.2 inches wide. The Bugatti is extremely wide for its height.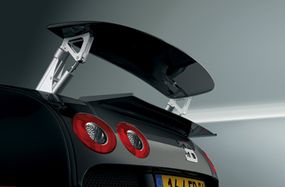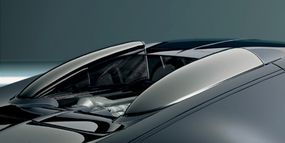 The underside of the Veyron, like an F-1 car, is streamlined and venturi-shaped to increase downforce. There is also a wing in the back of the Veyron (see below) that extends automatically at high speed to increase downforce and keep the car glued to the road. According to Popular Science: Hypercar, "With the moving tail spoiler we've got enough downforce now, about 100 kg (221 pounds) at the rear and 80 kg (177 pounds) at the front at top speed."
If you look at the above photo, you'll notice two snorkel-like devices, one on either side of the engine, on the roof of the car. The Veyron uses these to manage airflow. The Veyron has three reasons for managing airflow:
At maximum power, the engine is consuming 45,000 liters of air per minute.

At maximum power, the engine is burning 1.33 gallons of gasoline per minute and needs to dissipate all of that heat through its radiators.

When stopping, the brakes need to dissipate heat ?- especially important when rapidly accelerating and braking on twisty road courses.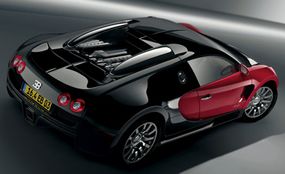 You can see how the Veyron handles these requirements in the photo below. The engine of the Veryon sits behind the driver, so roof-mounted snorkels, the rear-deck vents and side-mounted scoops bring air to the engine and rear brakes.
The size of the engine and transmission, along with the four-wheel-drive system and the four drive shafts, along with the opulence of the passenger compartment (discussed in the next section) and the car's oversized dimensions, all add weight. Even though the body is sculpted in carbon fiber to minimize its mass, the car weighs in at about 4,300 pounds (1,950 kg). For comparison, a Dodge Viper weighs about 1,000 pounds (454 kg) less.
In the next section we'll look at the tires and interior.