1
Modern Engines Have Partners
Modern engines have a lot of technology that helps use less fuel while making more power than older engines, but they have one last thing that older engines just didn't have: partners.
Today's car engines are not only sophisticated technological achievements, they're partnered with other high-tech components that help them do their jobs better. A four-or five speed transmission used to be cutting-edge, but today's engines are partnered with transmissions with seven and even eight speeds. The more speeds a transmission has, the better it's able to mesh with engine power, making the whole drive train run more efficiently. Or, if eight speeds aren't enough, modern engines are partnered with Continuously Variable Transmissions (CVTs). CVTs have an infinite number of gear ratios, making them able to transmit the engine's power to the wheels in the most efficient way possible.
In hybrid cars, modern engines get help from electric motors powered by battery packs. While the electric motor can power the car at slow speeds, or run accessories when the car is stopped, it can also kick in to generate extra power when it's needed, like when a car is accelerating hard. Having an electric motor as a backup means that the car's engine can be a bit smaller and less powerful, which saves fuel. In some cases, though, car companies are combining electric motors with big, powerful engines for a performance punch.
For more information about modern car engines and other related topics, follow the links below.
Related Articles
Sources
General Motors. "Chevrolet Malibu Media Archives." (June 1, 2011) http://archives.media.gm.com/division/2003_prodinfo/03_chevrolet/03_malibu/index.html

LaBarre, Katie. "2011 Ford F-150 Review." U.S. News Cars. (June 1, 2011) http://usnews.rankingsandreviews.com/cars-trucks/Ford_F-150/

U.S. Department of Energy. "Energy Efficient Technologies." (June 1, 2011) http://www.fueleconomy.gov/feg/tech_adv.shtml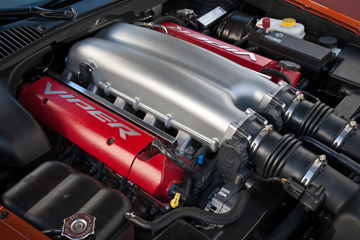 Up Next
Is it possible for something as simple as new motor mounts to increase engine response in your car or truck? Find out at HowStuffWorks.
---