The 1998 Harley-Davidson FLSTS Heritage Springer -- known as the "Old Boy" when it was introduced in 1997 -- was unaltered in mechanical specifications. But while the 1997 versions came only in white, the 1998s were dressed in vivid black. Once again, striping was red or blue, and a 1940s-style emblem graced the tank.
From the Springer forks to the wide whitewalls to the fringed saddlebags, the Old Boy's styling mirrored that of a 1940s-vintage bike. The example above carries some optional accessories, such as teardrop front-axle flares.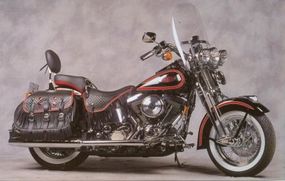 The design of the Harley-DavidsonFLSTS Heritage Springer drew upon classic bikes.
To learn more about Harley-Davidson and other classic motorcycles, see:
Harley-Davidson Motorcycles

Chopper Profiles

Classic Motorcycles