1967 Buick Gran Sport
The 1967 Buick Gran Sport engine had bigger manifold branches, larger valves, and improved exhaust headers that assured minimum gas flow restriction. Intake valves were 18 percent larger than in 1966 and the exhaust valves were 56 percent larger. There went the old "nailhead."
Other innovations included water jackets in the cylinder heads that were carried around the spark plug holes. In addition, conical spark plug seats eliminated the need for plug washers.
"There were a couple of important reasons for the change," wrote Larry Gustin and Terry Dunham in The Buick: A Complete History. "The first was breathing flexibility. The earlier engine featured vertical valves with a pent roof combustion chamber, necessitating a valve actuating mechanism in which the pushrods passed through bosses drilled in the cylinder heads crossing the valve guides with the rocker arms and doubling back to actuate the valves. Valve and port sizes were limited in this arrangement.
"In the new engine there was a domed chamber (Buick engineers called it a 'slanted saucer') designed by [engineer Joseph] Turlay before his retirement, with conventional rocker arms and pushrod placement, and a 15-degree angle between valve and cylinder axes. ...
"Since the industry trend seemed to be away from the classic wedge chamber, this was a surprise as well. But the domed chamber with small quench area had a significant feature and represented the second important reason for the change. It boasted considerably less surface area in relation to displacement volume than the conventional wedge. While this did not reduce octane requirement, it did result in higher efficiency (power and fuel economy) and less emission of hydrocarbons."
But there were more changes than in the engine department alone. For one, the Gran Sport wasn't a Skylark any more. As Popular Mechanics put it, "Probably feeling the 'Skylark' tag might be too much for the birds, Buick folks 'officially divorced' what is now the GS-400 from the Skylark series. They're probably right -- a ruddy young male would much prefer a masculine GS-400 to a fine-feathered bird."
Instead of fender skirts, which were available on the Skylark, the GS had open rear wheel housings that showed off its F70 x 14 wide-oval red- or white-stripe tires. General styling was left intact, but the grille adopted a thicker horizontal bar bisected by a strong vertical spine. Taillights were enlarged a bit, too. Cars equipped with optional front disc brakes also required special wheels, hubcaps, and beauty rings.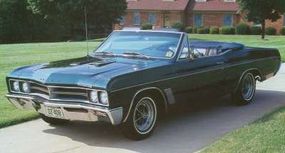 Gustin and Dunham added that Buick's brakes were recognized as the best in the industry (though some journalists who tested 1965 and 1966 Gran Sports were critical of their all-drum brakes), and they were made even better for 1967: "Front power discs were optional on most models, aluminum brake drums were extended to GS-400 and Sport-wagon, and on the larger cars the system-was improved through the use of a larger power booster, better linings and a doubling of the number of fins in the brake drums."
Compared to its 1965 Gran Sport test car, Car Life found that not only was a 1967 GS-400 faster to 60 mph (6.6 seconds) and in the quarter mile (14.7 seconds), but with front disc brakes, its deceleration rate from 80 mph was substantially quicker and virtually without fade.
The GS-400 also now had a junior partner. As one Buick ad put it, "Our now-famous GS-400 ... doesn't come for peanuts. It's a great car -- but just a little rich for some people. So we set to work and designed the Buick GS-340. It has a smaller engine (but it weighs a lot less). Its interior isn't quite as sumptuous (but it's clean and simple and tasteful). It has its own exterior paint: a broad rally stripe, and contrasting hood scoops. And its own ornamentation and the full complement of GM safety features. We ended up with a car that does indeed cost less than the GS-400. But one with its own brand of excitement."
Not that the GS-340 was a whole lot cheaper than the GS-400. The two-door hardtop GS-340 (the only style available) had a starting price of $2,845, only $174 less than the GS-400 hardtop and just $111 less than the GS-400 coupe.
The lower price bought a GS-340 customer a car that looked like a GS-400, even if it didn't quite have the guts. Underhood was a 260-bhp, 340-cid V-8 with a 10.25:1 compression ratio. Torque was rated at 365 pound-feet at 2,800 rpm. The engine breathed through a four-barrel carburetor. A four-speed transmission was available for an extra $184. If the buyer opted for bucket seats and an automatic transmission, a full-length console could be fitted.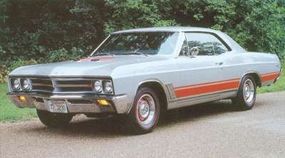 Bold red accents identified the 1967 GS-340,which came only as a hardtop.
To put the power to the road, specific front and rear shocks were offered, with special springs and a large diameter stabilizer bar. Tires were 7.75 rayon cords on 14-inch rally-style wheels.
The GS-340 was available in only two colors: white or platinum mist (silver). Both wore red rally stripes and hood scoops, as well as a red lower-deck molding.
Total GS production pushed up to 17,505, aided by 3692 of the new GS-340s. The top seller was the GS-400 hardtop with 10,659 examples produced. (On the West Coast, a California GS ornamentation package could be ordered for pillared coupes, the precursor to a pseudo-sporty car that would be sold nationally beginning in 1968.)
The most popular package was the GS-400 hardtop coupe with the automatic transmission -- 8,006 were produced. Least popular was the GS-400 convertible with a three-speed manual; only nine were made.
After these first three years of feeling its way around the muscle-car arena, Buick finally figured out what to do. In subsequent years, Stage I and Stage II versions that still hold stock dragstrip records made the GS well known to performance buffs. But no matter what the year of a Gran Sport, it always got its driver to the finish line comfortably and in style.
For more information on cars, see:
Classic Cars

Muscle Cars

Consumer Guide New Car Search

Consumer Guide Used Car Search