The 1961 Studebaker Champ had the grille of a Lark, the bed of a pickup, and dim prospects for a long-term future.
The 1961 Studebaker Champ was part of a Studebaker truck design generation introduced for 1960. Studebaker truck styling hadn't changed in more than a decade and sales were slipping. The answer, designers decided, was to graft the front end from Studebaker's new-for1959 Lark compact car onto a truck chassis with a regular pickup bed.
Result: the 1960-1964 Studebaker Champ line of 1/2- and 3/4-ton pickups. (Studebaker's heavier-duty trucks clung to their 1950-era design.)
Not everything about the Champ's nose was identical to the Lark car. For example, grilles were similar, but Champs wore thick horizontal bars instead of the Lark's more delicate cross-hatch pattern. Champ bumpers were heavier, and mounted lower because the pickup sat higher off the ground. Gazing forward from inside the cab, though, it looked to be all Lark.
Half-ton Studebaker Champs could have a short 6.5-foot cargo bed or an eight-foot bed, while 3/4-ton models were limited to the long bed. Platform and stake bodies also were available.
Under the hood was the traditional 170-cid L-head six, now delivering 90 bhp. Optional were the Commander 245-cid six with 118 bhp, and a pair of V-8s: 259 and 289 cubic inches, developing 180 and 210 bhp respectively. Only V-8 Champs could be ordered with Studebaker's Flightomatic automatic transmission, at $200 extra.
Deluxe trim cost $38 and included a chrome grille and trim, pleated vinyl upholstery, and a sliding rear window. Only $130 more bought a radio and heater. Base prices ranged from $1,875 for the short-bed 1/2-tonner to $2,220 for the 3/4-ton with V-8.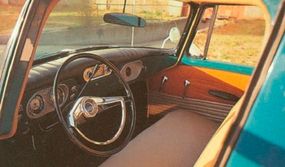 New for the 1961 Studebaker Champ was an overhead-valve six variant of the 170-cid unit. It had 110 horsepower and replaced both ancient L-heads. Aside from twin air-intake grilles, the 1961 Studebaker Champ looked the same as the 1960 model, though a new wide-box version called the Spaceside became available.
Annual Champ production was just over 5,500 in both 1960 and 1961. Production hit 7,325 in 1962 and 5,861 in 1963. The final 1964 version numbered only 2,509 units.
Champ production in South Bend ceased at the end of 1963 and the Lark-nosed pickups, like the Avanti and the Hawk, passed into history. Studebaker itself would fold after the 1966 model year.