Although the standard-line 1955-1956 Chevrolet Series 3100 pickup wasn't in the class of the Chevrolet Cameo Carrier, it was more stylish than any that had gone before.
Attitudes about trucks were changing fast in the 1950s. Lots of people used them for double-duty; cargo hauling and personal transportation. An eye-catching truck could also promote a merchant's services.
The market for slick pickups was out there, and Chevrolet was one of the first to take advantage. Introduced in mid-model year, the new design for the 1955 Chevrolet Series 3100 pickup was revolutionary from the cab forward.
Inspired by passenger-car design, it had a wraparound windshield and eggcrate grille, and offered the option of Chevrolet's new 265-cubic-inch V-8, rated 145 horsepower under truck hoods. Jutting forward from the thoughtfully-shaped fender and door surfaces, the car-inspired sculptured headlamp visors helped to create a racy profile, which translated into high sales.
And Chevrolet needed this sharp styling. Early in 1955, Business Week reported, nearly all truckmakers were "emphasizing style and design on cabs and bodies" to an unprecedented degree. Operating economy still received greatest emphasis, but fashion and creature comfort had definitely arrived.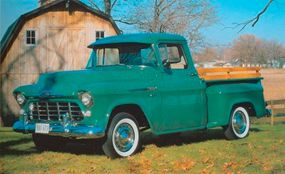 Even whitewall tires and full wheel covers were often installed, as on the fine1956 Chevrolet Series 3100 pickup pictured with this article.
Pickups had definitely changed in character. As Popular Science observed a year later, "you'd hardly know they're trucks."
The 1956 models were unchanged, although the side nameplate moved up above the fender crease and a new emblem adorned the hood.
Base prices rose from $1494 in 1955 to $1619, and the V-8 (called Trademaster) produced 155 horsepower while the six jumped to 140.
Depending on model, buyers could choose from the usual wide range of transmissions; both the standard 114 and an extended 123-inch wheelbase were available.