1957, 1958 Cadillac
Cadillac's identity as an American automotive icon hit its stride for 1957 and 1958. These cars celebrated the good life with ever-more voluptuous styling and lurid chrome appointments, but backed that up with some genuine engineering creativity.
For '57, the division's 356-cubic-inch V-8 gained 15 horsepower in standard form, to 300, and increased by 20 in the Eldorado, to 325, mostly thanks to a compression bump to 10:1.
This engine powered a rebodied 1957 Cadillac lineup. The look was blockier but still evolutionary, inspired by the Cadillac Orleans, Eldorado Brougham, and Park Avenue show cars of 1954 and 1955.
Reaching into the luxury stratosphere was a production 1957 Cadillac Eldorado Brougham, priced at a princely $13,074. One of the most-interesting Cadillacs of the 1950s, this low-slung pillarless sedan on a "compact" 126-inch wheelbase featured center-opening doors and a roof capped in brushed stainless steel, the latter one of Harley Earl's favorite touches. Standard quad headlights were an industry first shared with that year's Nash.
The Brougham's most-intriguing mechanical feature was air suspension, the work of engineers Lester Milliken and Fred Cowin. Based on systems used for commercial vehicles since 1952, this employed an air "spring" at each wheel and was comprised of a domed air chamber, rubber diaphragm, and pistons. Fed by a central air compressor, the domes continually adjusted for load and road conditions (via valves and solenoids) for a smooth, level ride.
Cadillac's system differed from "air ride" options at other GM divisions in being "open" (taking in air from outside) rather than "closed." Unhappily, cost and complexity were high relative to benefits. The air domes leaked, and replacements were frequent, leading many owners to junk the system in favor of conventional coil springs. Cadillac and GM abandoned air suspension after 1960.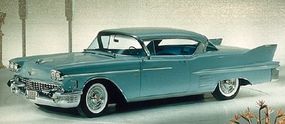 Back to the volume Cadillacs, which were heavily facelifted for 1958 in a manner typical of GM that model year. The most-garish Caddys yet, they dripped with chrome and were far less stylish than recent models. Sales were poor, though a nationwide recession was probably more to blame than the styling, which was, after all, in vogue. At 121,778 units, 1958 model-year production was the lowest since 1954. Horsepower ratings, however, continued climbing. The 365 V-8 was coaxed to 310 horsepower on all but the Eldorado, where it made 335.
Forecasting the future, the 1958 Cadillac De Ville became a 62 subseries, and pillared sedans were eliminated. The 62 line also gained a hardtop sedan with extended rear deck.
All 1958 Cadillac models were available with cruise control, high-pressure cooling system, two-speaker signal-seeking radio, and automatic parking brake release. A special show Eldorado introduced a "thinking" convertible top that raised itself and the side windows when a sensor detected raindrops; this gimmick allegedly saw limited production, though probably far less than even air suspension did.
An evocative redesign was on tap for Cadillac's next model year. We'll examine the immortal 1959 Cadillac next.
For more infomation on Cadillac, see:
Cadillac: Learn the history of America's premier luxury car, from 1930s classics to today's newest Cadillac models.

Consumer Guide New Car Reviews and Prices: Road test results, photos, specifications, and prices for 2007 Cadillacs and hundreds of other new cars, trucks, minivans, and SUVs.

1940-1949 Cadillac: Cadillac produces some of its most beautiful cars and some of its most important engineering developments -- not to mention the tailfin.

1960-1969 Cadillac: Cadillac brings unmatched elegance to the luxury market and is rewarded with unchallenged popularity.