1954, 1955, 1956 Cadillac
Cadillac for 1954 introduced longer, lower, and wider cars with more power and an all-new General Motors "C-body" bearing the trendy wrapped windshield.
Wheelbase lengthened to 129 inches on Cadillac Series 62 models, and to 149.8 inches on Series 75s. The Cadillac V-8 was boosted to 230 horsepower, and power steering and windshield washers became standard linewide. A four-way power front seat was a new option.
The 1954 Cadillac Eldorado returned with standard gold-color trim and genuine wire wheels, but was much more like the standard Series 62 ragtop and thus far cheaper than the 1953 Eldorado, at $4,738. Predictably, Cadillac Eldorado sales rose to 2,150 for the model year. That improved to 3,950 for '55, then rose 65 percent for '56, when Eldorados doubled to include a hardtop coupe, surnamed Seville, with the same $6,556 base price as the convertible, which was renamed the Cadillac Eldorado Biarritz.
Eldorado became more distinctive again after 1954, sprouting pointy "shark" fins above round taillights. Other 1954 Cadillac models retained the small taillight-and-fin motif from prior years.
Cadillac's basic 1954 styling persisted through effective, evolutionary facelifts for 1955 and 1956. The latter year brought the division's first four-door hardtop, predictably dubbed Sedan de Ville, which immediately scored almost as many sales as the Coupe de Ville and standard Series 62 hardtop combined.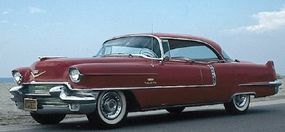 Cadillac sales continued nowhere but up, reaching 140,777 for 1955, a banner year for all Detroit. But even that was a temporary plateau. Despite challenges from an all-new 1956 Lincoln and revitalized 1957 Imperial, Cadillac remained America's luxury sales leader by far. Combined Lincoln/Imperial volume never exceeded 40,000 cars a year in this era; at Cadillac, that was good output for a calendar quarter.
Horsepower seemed to climb right along with sales. For 1955 it reached 250 in standard tune via higher compression and improved manifolding. The 1955 Cadillac Eldorado boasted 270 horsepower, courtesy of dual four-barrel carburetors that were optional for other models. For 1956, the milestone V-8 received the first of several enlargements, being bored out to 365 cubic inches, good for 305 horsepower in Eldorados, 285 in other models.
Horsepower would continue to climb, along with the elevation of those tailfins, as Cadillac was poised to enter a period in which it would cement itself as a symbol of the American Century. 
The 1957 and 1958 Cadillac models were flamboyant -- even garish to some -- yet creatively engineered. These fabulous 50s models are detailed on the next page.
For more infomation on Cadillac, see:
Cadillac: Learn the history of America's premier luxury car, from 1930s classics to today's newest Cadillac models.

Consumer Guide New Car Reviews and Prices: Road test results, photos, specifications, and prices for 2007 Cadillacs and hundreds of other new cars, trucks, minivans, and SUVs.

1940-1949 Cadillac: Cadillac produces some of its most beautiful cars and some of its most important engineering developments -- not to mention the tailfin.

1960-1969 Cadillac: Cadillac brings unmatched elegance to the luxury market and is rewarded with unchallenged popularity.