Some of Cadillac's most important engineering developments, and some of its most beautiful cars, appeared in the 1940s. Like sister division Buick, Cadillac gave its cars a facelift for 1940-1941, then issued completely new 1942 styling that left it in a good market position when civilian car production resumed after World War II.
Most 1940 Cadillacs were relatively plain, almost Chevrolet-like in front with simple bar grilles. The exception was the splendid Sixteen, which wore the eggcrate radiator theme first seen for 1937, and soon to be a Cadillac fixture. All models benefited from more-reliable sealed-beam headlamps, as did most Detroit cars that model year.
Ranked below the Series 90 and 75 for 1940 was a new Series 72 with a 138-inch wheelbase and slightly fewer models, but also lower prices ($2,670-$3,695). Though impressive and well designed, it would be a one-year-only line, with sales limited by competition from the more luxurious 75. Yet even counting 75s and Sixteens, Cadillac built only a little over 2,500 long-wheelbase 1940 cars.
The crisp Sixty Special returned with minor styling tweaks in the same four models offered for 1939. A predictive, if rarely ordered, new option (Cadillac sold only 1,500 between 1938 and '41) was a sliding metal sunroof grandly advertised as the "Sunshine Turret Top Roof". A manually cranked affair, it was available for both the standard "town sedan" and division-window Imperial models. There was also a Sixty Special "town car" offered with a painted-metal or leather-covered roof. Just 15 were built; most 1940 Sixty Specials were the standard sedan (4,472 units).
Displacing the Series 61 as the most-affordable 1940s Cadillac was the Series 62, another future Cadillac fixture. Initial offerings were comprised of a coupe, touring sedan, convertible coupe, and convertible sedan on a 129-inch wheelbase. Prices ranged from $1,685 to $2,195. As in later years, the 62 garnered the most sales by far of any 1940 Cadillac line.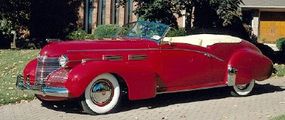 The division's 1940 V-8 retained monoblock construction (unitized block and crankcase), three main bearings with counterweights, and two-barrel downdraft carb. Though heavy, it was reliable and exceptionally smooth. As in '39, it was tuned for 135 horsepower in the 62 and Sixty Special, 140 for the 72 and 75.
Next, we'll look at the groundbreaking features Cadillac introduced in its 1941 models.
For more infomation on Cadillac, see:
Cadillac: Learn the history of America's premier luxury car, from 1930s classics to today's newest Cadillac models.

Consumer Guide New Car Reviews and Prices: Road test results, photos, specifications, and prices for 2007 Cadillacs and hundreds of other new cars, trucks, minivans, and SUVs.

1930-1939 Cadillac: Cadillac asserts its luxury leadership with magnificent V-16 and V-12 models that were among the greatest cars of an era of great cars.
1950-1959 Cadillac: Cadillac symbolizes the optimism of a swaggering America with soaring tailfins and Elvis-era glamour.