Had it not been part of General Motors, Cadillac might have perished in the Depression, a time when few could afford -- or wanted to be seen in -- big, expensive automobiles no matter how superb.
Unlike independent Packard, which was forced to survive with medium-priced products, Cadillac was protected by GM's vast size and enormous financial strength. Then, too, the division already had a medium-priced car, the LaSalle, introduced in 1927. All this helped Cadillac endure "hard times" without squandering its blue-chip image, even as it built ultra-luxury cars selling only in small numbers.
Foremost among them was that magnificent 1930 surprise, the Sixteen, carrying an overhead-valve, 452-cubic-inch V-16 engine producing 165 horsepower and 320 pound-feet of torque. Horsepower was increased to 185 in 1934.
An undoubted great in an era of greats, the Sixteen was ostensibly available in 33 different models, submodels or trim variations ranging from a $5,350 two-passenger roadster to a $9,700 town brougham. Keep in mind those prices bought a very nice home in the Depression years.
The typical Cadillac Sixteen could return about eight miles to a 15-cent gallon of gas and 150 miles to a quart of oil. It could also cruise at 70 and top 90 mph. But brute performance wasn't its forte. Rather, the Sixteen was intended to elevate Cadillac into the rarefied realm of Packard, Peerless, and Pierce-Arrow, still the three giants of American motoring. That it did, offering superb luxury and smooth, effortless power with minimal shifting. Cadillac advertised the Sixteen's performance as "a continuous flow...constantly at full-volume efficiency...flexible...instantly responsive."
The Sixteen was only nine months old when Cadillac introduced another multicylinder engine, a 368-cubic-inch V-12. Essentially a V-16 with four fewer cylinders, it delivered 135 horsepower and 285 pound-feet of torque. The cars it powered also weren't quite as large the Sixteens, riding the Cadillac Eight's 140-inch wheelbase instead of an enormous 148-inch span.
Predictably, the Twelve also wasn't as fast, but its free-revving engine was renowned for smooth, even power. And that power was quite ample. A roadster could do about 85 mph with standard rear-axle ratio, and most Twelves could cruise all day at 70. Of course, the Twelve was cheaper than the Sixteen, by far, offered with 11 body choices in the $3,795-$4,985 range.
But despite their refined performance and majestic proportions, the multicylinder Cadillacs were anachronisms in the devastated Depression market, and none sold in significant numbers. The peak was 1930-31 with exactly 3,250 Sixteens and 5,725 Twelves.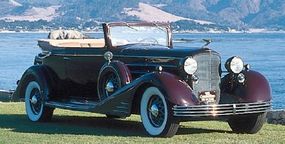 Production was only fair for '32, then declined to about 700 and 400 units per year, respectively. Both models were dropped after 1937, but Cadillac made one more try starting the next year with an L-head V-16. At 431 cid and 185 horsepower, this engine was smaller and lighter yet more potent than the earlier overhead-valve design, but only 508 cars were so equipped through 1940, its final year.
There were two reasons why these grand Cadillacs fared so poorly. As noted, super-expensive cars with more than eight cylinders seemed socially inappropriate to many people in the early '30s. After their initial sales spurt, these models were shunned by most customers for the cheaper, less showy, but by no means inferior Cadillac Eights.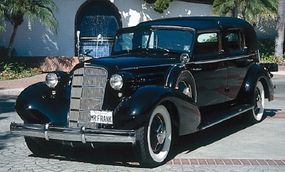 Later, the big engines were simply outmoded by advancing technology. The introduction of precision-insert connecting-rod bearings helped eliminate knock and high-speed wear in engines with fewer than 12 cylinders, so there was little reason for Cadillac buyers to choose a Twelve or Sixteen over an Eight.
We'll cover Cadillac's V-8 offerings in more detail on the next page.
For more infomation on Cadillac, see:
Cadillac: Learn the history of America's premier luxury car, from 1930s classics to today's newest Cadillac models.

Consumer Guide New Car Reviews and Prices: Road test results, photos, specifications, and prices for 2007 Cadillacs and hundreds of other new cars, trucks, minivans, and SUVs.

1940-1949 Cadillac: Cadillac produces some of its most beautiful cars and some of its most important engineering developments -- not to mention the tailfin.