For most people, the name Cadillac evokes images of the finned, chromed, and gadget-laden "Fabulous Fifties" models. And why not?
These Caddys were the ultimate expression of America's postwar prosperity and Detroit's high-flying ambition, four-wheeled tributes to the "jet age," new technological marvels both serious and silly, and the promised good life of ultra-modern, convenience-filled homes in safe, spacious new suburban communities.
It was a time when Cadillac ownership conferred instant status as a symbol of wealth and achievement. Elvis Presley owned a Cadillac. So did captains of industry, Hollywood moguls, even war-hero President Dwight Eisenhower.
No other luxury-car brand had this power in the public consciousness: not Lincoln, not Chrysler's Imperial, and certainly not Packard, which fast withered into oblivion after 1958. And though Lincoln and Imperial would mount occasional challenges, neither came close to eclipsing Cadillac's sales or prestige. Quite simply, in the four decades from 1950, Cadillac had no serious competition in the U.S. market.
Of course, Cadillac's success and frequent extravagances in the 1950s had detractors. For these folks, Cadillacs were two tons of wretched excess, the epitome of the "ugly American" and Detroit's "insolent chariots."
A later Federal Reserve chairman might have termed them "irrational exuberance." But all cars reflect the spirit of their times, and Cadillacs were right on target throughout the 1950s. The only thing better might be a "Solid Gold Cadillac," the reward for the heroine in a successful Broadway play and Hollywood movie.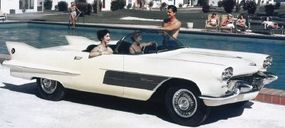 In an intriguing forecast of far-distant developments, Cadillac displayed several two-seat idea cars in the '50s.
The first was the 1953 Cadillac Le Mans, which looked much like a production 1954 Eldorado on a trimmer, 115-inch wheelbase. That same dimension served the 1954 Cadillac El Camino coupe and 1959 Cadillac La Espada convertible, which previewed 1955 Cadillac production-model styling. A restyled Cadillac LeMans was also shown at the '55 Motorama.
Wildest of all was the 1959 Cadillac Cyclone, a rocketlike fantasy with a 104-inch wheelbase, all-independent suspension, unit construction, and a clear-plastic "bubble" top. The canopy was coated inside with vaporized silver to resist the sun's rays, and slid away as the door was opened. And those doors were electrically operated sliding types, as on modern minivans.
Cyclone was a parting gift from GM design chief Harley Earl, who retired in 1958. His successor was longtime understudy Bill Mitchell, who would return Cadillac to more dignified styling in the '60s.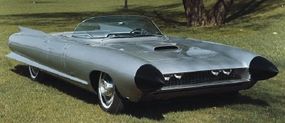 We'll continue our discussion of the 1950s Cadillacs with more details on 1950, 1951, 1952, and 1953 models on the next page.
For more infomation on Cadillac, see:
Cadillac: Learn the history of America's premier luxury car, from 1930s classics to today's newest Cadillac models.

Consumer Guide New Car Reviews and Prices: Road test results, photos, specifications, and prices for 2007 Cadillacs and hundreds of other new cars, trucks, minivans, and SUVs.

1940-1949 Cadillac: Cadillac produces some of its most beautiful cars and some of its most important engineering developments -- not to mention the tailfin.

1960-1969 Cadillac: Cadillac brings unmatched elegance to the luxury market and is rewarded with unchallenged popularity.