The 1947 Dodge canopy delivery is a nostalgic reminder of past times, when door-to-door grocers plied their trade from the street and offered householders the freshest fruits and vegetables right off the boat -- or at least off the truck.
The species was overcome by the postwar growth of supermarkets and the universality of refrigeration, but enough canopy trucks survive in collector hands to remind us of earlier days. Indeed, the 1947 Dodge canopy delivery was the last canopy delivery model offered by Dodge.
Like most manufacturers, Dodge in 1946 and 1947 was getting by with prewar equipment. The 1947 light-duty trucks hadn't changed a bit from 1946. In fact, they differed little in looks and specification from the redesigned TC series first introduced eight years before. Their 116-inch wheelbase was an inch shorter than the Dodge automobile.
Of the 42,542 Dodge half-tons built in 1947, the canopy delivery was probably the rarest, and for collectors it's one of the most interesting. The unique roof was made of 32 longitudinal slats, each different, nailed on cross bows and set into a wooden perimeter bolted to the body.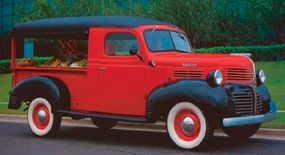 The top was covered with fabric similar to that used on car roofs before all-steel construction. The roll-up side curtains snapped into place when let down, and metal mesh screens for sides, driver's seatback, and rear door were available at extra cost.
Options on the example above include whitewall tires, heater-defroster, outside mirrors, rear-view mirror, sun visor, and passenger seat.