The 1935 Dodge KC half-ton pickup traced its design roots to 1933, when Dodge bravely risked an expensive restyle in the worst year of the Great Depression.
Classic Truck Image Gallery
While overall truck sales increased modestly in that devastated economy, the 1933 Dodge Series HC was exactly what the market wanted: Dodge truck registrations rocketed up over 320 percent, past 28,000 units. During 1933, a total of 38,841 Dodge trucks left the Hamtramck, Michigan, factory.
The 1934 successor, Dodge Series KC, was little changed in styling, which obviously was the correct decision, but it was improved mechanically.
There was a larger engine -- a Dodge 201.3-cid six instead of the smaller Plymouth 190 -- and a drop-forged I-beam front axle replaced the tubular-type. Registrations rose again, by 72 percent.
Thus, Dodge sailed into 1935 full of confidence, its light-duty trucks again little revised, but now carrying steel-roofed cabs with front-hinged doors. By now they didn't look so much like the passenger cars, which had received two styling facelifts, but the trucks didn't need any.
Business was so good that production expanded into Los Angeles and Canadian plants.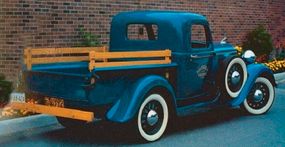 Sales of the 1935 KC half-ton pickup were more than sixfold those for Dodge half-ton pickups in 1932, which used Dodge's previous pickup design.
A standard-wheel-base KC pickup cost $480, which happened to be the same price as a half-ton Ford. Prices were low, because hardly anything was standard.
Still, the options didn't cost much: $7 for chrome bumpers, $4 for a second wiper, $2 each for a hood ornament and interior visors, $3 for an air cleaner, $5 for safety-glass windshield, $7 for a metal tire cover.
Biggest plunge was $15, which bought a chromed radiator shell and headlamps, plus hydraulic shock absorbers. Also available was a sixth wheel -- six wire wheels, four tires, and a second (driver's-side) wheel well cost only $10 extra.
Output for 1935 rose again, to 83,701 trucks. For 1936, Dodge restyled the light truck line and rode to even greater success, but the 1937 recession cut volume short again.
The 1935 Dodge KC half-ton pickup was clearly one of the most successful Dodge trucks of a dreary decade.
Collectible Pluses of the 1935 Dodge KC Half-Ton Pickup
Square-cut good looks

Reliable, easy to work on

Not expensive
Collectible Minuses of the 1935 Dodge KC Half-Ton Pickup
Limited collector following

Asking prices tend to be higher than these trucks are worth

Parts are scarce, especially sheet metal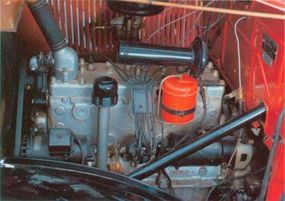 A reliable 201.3-cid six powered the popular 1935 Dodge KC half-ton pickup.
For more great articles and pictures on new and classic trucks, see:
Consumer Guide Auto Reviews and Prices