The 1932 Plymouth PA Rumble-Seat coupe helped increase Plymouth sales, which had been down because of the Depression. In fact, auto sales crashed to their lowest level since the production-limited days of World War I in 1918. But Plymouth bucked that trend, moving from from seventh place in sales in 1930 to fourth in 1931, and third in 1932. Aggressive pricing, astute marketing, and a quality product had fueled the rapid rise.
Sharing Chrysler's reputation for fine engineering, Plymouth featured hydraulic brakes on its very first 1929 models.
The Series PA, which bowed on July 11,1931, was considered a 1932 model. Borrowing its Safety-Steel body from the '31 DeSoto SA and Chrysler SM, Plymouth was a step ahead of Chevy and Ford in eliminating structural wood, and a double-drop frame lowered overall height to 67 inches, making the Plymouth look longer than its modest 169-inch length.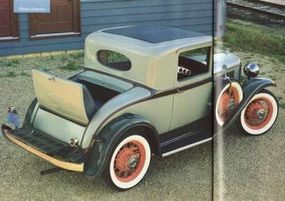 "Floating Power," with rubber-cushioned mounts strategically placed along the engine's center of gravity, provided "the Smoothness of an Eight and the Economy of a Four." This Plymouth exclusive was soon widely imitated. Also featured were an Easy-Shift transmission with a "silent" second gear and, for $20, Free Wheeling. Closed bodies carried a built-in aerial inside the roof for the few who could afford the Philco-Transitone radio.
The PA was the first Plymouth to feature a grille, and its vertical "radiator louvres" could be finished in chrome rather than paint. Also of note were a stylish "flying-lady" hood ornament and an oval rear window. Powered by a 196.1-cid, 56-horsepower L-head four, the 109-inch-wheelbase PA boasted eight horses more than the previous Series SOU. The 11 PA models ranged in price from $495 to $690.
The two- and four-passenger coupe sold for $610; the second taillamp, luggage rack, and dual sidemounts cost extra. Of the 105,095 Plymouth PAs built during the short model run (the PB bowed in April 1932, also as a '32 model), 9,696 were rumble-seat coupes. One beautiful coupe, owned by Eugene W. Brotzman, of Mazomanie, Wisconsin, was stolen by a 72-year-old woman, and it took him two years to recover his prized Plymouth before he could restore it in 1983-1984.