1931-1933 Volkswagen Beetle
Of the many ironies surrounding the Volkswagen Beetle, perhaps the greatest is that such a friendly little car of near universal appeal should be born during Germany's hideous Third Reich. The embryonic version of the car, the 1931-1933 Volkswagen Beetle, sprang as much from the fearsome will of a nationalistic dictator as the fertile mind of a respected engineer.
The dictator, of course, was Adolf Hitler, the failed artist and former army corporal who got himself elected German chancellor in 1933. With the vast majority of his countrymen still demoralized by World War I and suffering anew in the Great Depression, Hitler and his National Socialist Party viewed a revived economy and increased consumerism as ways to win support for the military adventurism and rank genocide they had long sought. So it was that Hitler began to champion a small, affordable "people's car" -- a Volkswagen.
Just two years before, the headstrong but eminently talented Ferdinand Porsche began pursuing this very thing with colleague Karl Rabe. Since 1898, Porsche had worked -- and chafed -- in the employ of automakers like Steyr and Austro-Daimler, so in 1930, at age 55, he established a Konstruktionsburo, an independent design consultancy, in Stuttgart.
Besides Rabe as chief designer, his employees included air-cooled-engine whiz Josef Kales, body designer and aerodynamicist Erwin Komenda, and attorney Dr. Anton Piech. All would prove integral to creating and managing Porsche projects through the years.
The Volkswagen that Porsche would eventually create was ever characterized by a rear-mounted, air-cooled four-cylinder engine in "boxer" format (horizontally opposed cylinders); fully independent suspension with rear swing axles and front transverse torsion bars; a sturdy platform chassis with reinforcing central "backbone"; and an aerodynamic beetle-shaped two-door sedan body in contemporary "streamlined" style.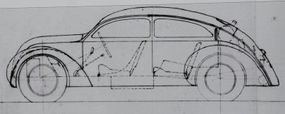 Here's a blueprint drawing for the Porsche-designed 1933 NSU Type 32. A step toward the eventual Beetle, the Type 32 never went into production.
2007 Publications International, Ltd
While none of these ideas were new even in the early 1930s, Porsche's great achievement was to put so much sophistication into one relatively simple car.
Earlier experience had shown the way. For instance, German automaker Wanderer had engaged the Porsche Bureau to design a small sedan that entered production in 1932. Shortly afterwards, Wanderer merged with Audi, DKW, and Horch to form Auto-Union, which led to a swing-axle rear-suspension layout.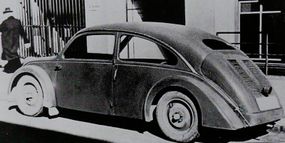 The prototype of the 1933 NSU Type 32 shows a striking resemblance to the later Volkswagen Beetle.
2007 Publications International, Ltd
In addition, the Porsche firm developed and patented a novel independent front suspension with transverse torsion-bar springs. More advances came when Porsche was commissioned to design prototypes of small, inexpensive cars for motorcycle makers Zündapp and NSU, who were then thinking of entering the auto market.
Both projects provided valuable lessons with engineering elements that would later define the Beetle, especially the NSU Type 32 and its air-cooled four-cylinder "boxer" engine. Even so, neither car came to fruition.