As hot rodding and customizing advanced into the new millennium, the hobby's international following became stronger and more visible, particularly in Japan. The "Rod"riguez hot rod is a fine example of a Japanese hot rod.
Hot Rod Image Gallery­
­
Interest in American rods and customs among the Japanese had been growing steadily since the mid 1980s. Japanese enthusiasts began importing vintage American cars and parts, and soon they were building hot rods and customs of their own. By the early 2000s, Japan boasted a distinctive and thriving hot rod and custom scene.
In February 1987, Junichi Shimodaira started a business in Nagoya, Japan, called Paradise Road. In addition to importing American cars and parts, Paradise Road became a full-service hot rod, custom, and lowrider shop capable of a variety of construction tasks. In 2002, Junichi turned a 1930 Ford Model A Tudor sedan into a wild show rod that he named "Rod"riguez.
"Rod"riguez blended hot rod, custom, and lowrider styling cues in a completely original way. The startling, show-rod-inspired nose was made by cutting off the ends of a 1959 Cadillac front bumper and welding them to a hand-fabricated center grille section. The grille opening was filled with expanded metal mesh and hardware-store coat hooks.
The body was radically channeled over the frame, and the leading edge of the cowl was reshaped to complement the outlandish grille shell. Inverted 1958 Chevrolet parking-light bezels were frenched into sculpted pods to serve as taillights.
The frame itself was boxed and Z'd four inches up front and six inches in the rear. Traditional hot rod suspension components consisted of a TCI dropped-axle kit up front and a Chevy 10-bolt rear end with tube shocks and a TCI spring out back.
A 303-cid Rocket V-8 and Hydra-Matic transmission from a 1949 Oldsmobile was installed. The mill was essentially stock, but got a far-out show rod look via a '60s-style fogged paint job, a custom dual-inlet carburetor scoop, custom-made rippled headers, and plenty of chrome. A radiator from a '68 Mustang was mounted behind the wild nose.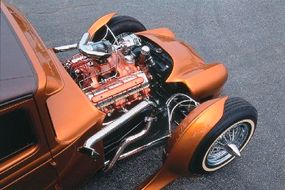 The engine is a 303-cid Rocket V-8 and Hydra-Matictransmission from a 1949 Oldsmobile.
In this form, "Rod"riguez was featured in the February 2003 issue of Cruisin', a Japanese hot rod and custom magazine. Junichi still had more ideas, and tore "Ro­d"riguez down for a redo. The top was chopped in a unique wedge fashion.
The rear of the top was left at stock height, but the A- and B-pillars were cut four and two inches, respectively, to bring the top down at a rakish new angle. The original grille insert was replaced with a new one fabricated from square tubing, complete with a stylized gold "R" in the center.
Junichi also added wildly sculpted fenders, crafted in metal. Spiderweb-shaped supports were fashioned from chromed rebar rod to hold the forward sections in place. Cragar Star Wire wheels with bullet center caps were mounted on '60s-style whitewall tires.
For the second go-around, the body was finished in Tequila Gold metallic paint, with impressive pinstriping by multitalented Japanese artist Makoto Kobayashi of M&K Custom Signs.
"Rod"riguez's interior matched the genre-bending style of its exterior. The dash and gauge panel were left mostly stock. Custom-made seats with segmented cushions in between outer tube frames were mounted flat on the floor. The gas tank and battery were hidden behind the seats, underneath furry, '60s show rod-style carpet. An early '60s Ford steering wheel was cut down into an aircraft style yoke, yet another '60s show rod-inspired trick.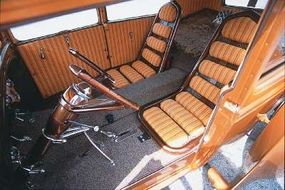 Custom-made seats with segmented cushions inbetween outertube frames were mounted on the floor.
Publications International, Ltd.
­Junichi shipped his prize to the U.S., where he entered it in the 2005 Grand National Roadster Show in Pomona, California. He and his car were also on hand for the 2005 West Coast Customs Cruisin' Nationals in Paso Robles.
Junichi is prominent among a new wave of Japanese car enthusiasts that brought a fresh perspective and groundbreaking ideas to the world of hot rodding and customizing in the early 2000s. Concurrently, several American hot rodding celebrities made the long trek over to Japan to be ­honored guests at the Mooneyes Yokohama Hot Rod and Custom Show.
This cross-continental cross-pollination of building ideas and cultures provided an exciting shot in the arm for hot rod and custom building trends. Best of all, the blossoming Japanese scene served as evidence that the spirit of hot rodding and customizing transcends cultural, geographic, and linguistic ­barriers.
To learn more about custom cars and hot rods, see: