Troy Trepanier is well-known among hot rodders for his cutting-edge street machines. As proprietor of Rad Rods by Troy of Manteno, Illinois, Troy has never placed tradition high on his list of priorities. That is, until Roger Ritzow of Franklin, Wisconsin, asked Troy to build him, "a nice little Deuce roadster."
The project started with a Pete & Jake's reproduction Deuce frame. To get the right stance, Troy and project manager Levi Green modified the frame to lower the car front and rear. At the back, they incorporated three-inch kickups and notched the frame rails to allow the frame to sit lower on the axle.
They also installed a Model A rear crossmember, a Posies Super-Slide spring, a Dutchman quick-change rear end, and '36 Ford pickup rear radius rods. Up front, Rad Rods thinned the frame rails one inch and gave them a two-inch kickup. They installed a custom crossmember, another Posies spring, a modified Super Bell axle, and '40 Ford wishbones. It was all pretty traditional, really.
The brakes and rolling stock were also given a traditional look, but they're far from it. Rad Rods installed Wilwood disc brakes up front and hid them behind custom-made Buick-style finned "drums" by Billet Specialties. Billet Specialties also carved 16x5-inch front and 19x7 rear wheels from billet ­aluminum.
The wheels mimic vintage Ford steel wheels and accept stock Ford hubcaps. The "trim rings" are not separate at all. Rather, they were machined into the wheels' edges. Rad Rods painted the wheels tan and mounted them on ­vintage-style Firestone bias-ply tires by Coker.
Troy and Levi cut and raised the Brookville steel body's rear fender reveals two inches so they would outline the tires. Up front, they chopped the windshield two inches, smoothed the firewall, fabricated a stretched hood, and installed commercial headlights with sectioned buckets on custom-made stainless steel headlight stands/shock mounts.
A lot of subtle work was done to make the back flow better. In addition to recessing the license plate and frenching the '39 Ford taillights, Rad Rods modified the body to wrap around the gas tank, which was also reshaped. The body was finished in subtle gray-green Glasurit paint.
Rad Rides teamed up with Bob Sweeney of FX Engines to build the 1949 Mercury 260-cid flathead V-8. Performance parts included Edelbrock heads, JE pistons, and an Isky cam. The vintage Hilborn injector stacks kept their functional butterflies, but modern electronic injectors and fuel rails were hidden below the injector stack mounting plate.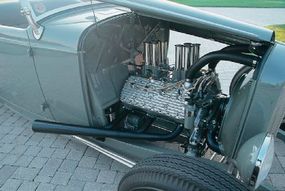 John Meaney built a modern EFI control system to make it all work. Rad Rides made the headers, and linked the engine to a Tremec five-speed manual transmission. Any engine or chassis component that would typically be chromed was instead given a nickel-­plated satin finish. When possible, the wiring and plumbing was hidden, and the modern spark plug wires were wrapped in fabric for a vintage look.
Jim Griffin Interiors stitched the green-dyed buffalo-leather interior. The instrument cluster came from a 1933 Plymouth. A So-Cal Speed Shop steering column was topped with a '40 Ford-style billet steering wheel by Giovanni. And as the final nod to both the past and the present, a vintage auxiliary heater was fitted with modern speakers and a pull-on ignition switch, then installed under the dash.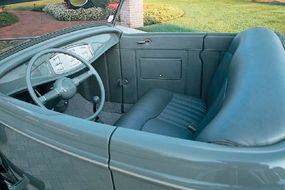 Though it had subdued paint and subtle details, Ritzow's Deuce still managed to stand out from the crowd. Goodguys named it Street Rod of the Year for 2004.
The little roadster set new standards for melding the old with the new. Best described as "high-tech traditional," the car's look is rooted in the 1940s, but it utilizes modern construction techniques and benefits from state-of-the-art technology.