The NieKamp Roadster was conceived in 1949, when Bill NieKamp was a middle-aged man playing a young man's game. Forty-three years old at the time, he set out to build a hot rod he could enter in car shows and race at Southern California's dry lakes.
A body assembler and painter at the Plymouth factory in Long Beach, California, NieKamp bought a 1929 Model A roadster body for $15 and channeled it over 1927 Essex frame rails. NieKamp performed most of the work himself, using very basic techniques.
Whitey Clayton fabricated the bellypan, hood, and track nose, while NieKamp made the floorboard and nerf bars. Under the hood, NieKamp installed a 1942 Mercury flathead V-8 with Evans heads, a Weiand intake manifold, a Winfield cam, and a pair of Strom­berg 97 carburetors.
NieKamp kept close records along the way, and the sum cost of the project came to $1,888.72.
Before NieKamp raced the car, he showed it at the inaugural National Roadster Show in Oakland, Califor­nia, in lakes trim with a passenger-side tonneau and no windshield. The meticulously built rod won the first America's Most Beautiful Roadster award.
NieKamp raced the roadster at El Mirage for three seasons, culminating with a run of 142.40 mph in July 1952. Soon thereafter, he turned down a $2,800 offer for the car, opting instead to raffle it off to benefit a racer who had been seriously injured at Bonneville.
The winner of the raffle, a young soldier named Dick Russell, drove it as his daily driver and raced it at the Santa Ana Drags before selling it to Delmer Brink in 1958.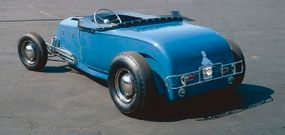 Brink decided to swap in a Buick nailhead engine, but never completed the work, and sold the car to then Rod & Custom associate editor Jim "Jake" Jacobs in 1969 for $1,300. Jake, who had recognized the car as the very first AMBR winner, restored it in a 1971 series of articles in the magazine.
Jacobs' efforts made the NieKamp roadster the first historic hot rod to be restored, a practice that would come into vogue 20 years later.
After the flathead Jake installed died in 1975, he replaced it with a 265-cid Chevy V-8. The small block remained in the car until 1997, when the roadster was invited to compete in the first Hot Rod class at the 1997 Pebble Beach Concours d'Elegance.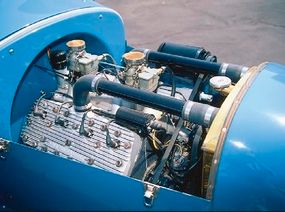 With respect to the car's storied past, Jacobs restored it to its 1950 configuration, installing another flathead, removing the windshield, and adding a tonneau. Now displayed at the Petersen Automotive Museum in Los Angeles, this hot rodding icon is preserved for posterity.