Jumps, Crashes, and Chases
Although Tom Wopat and John Schneider performed their own fight scenes and did a little driving in the first unit General, all the show's spectacular chases and jumps were performed by a skilled crew of stunt drivers. No one was ever hurt filming a Dukes stunt, although there was one death on the set in 1979 when there was a freak accident involving a truck filming background scenery.
The "Dukes of Hazzard" stunt crew did a lot of fancy driving, executing "bootlegger" turns, high-speed drifting on dirt roads, and break-neck chase scenes. However, the General Lee is known best for taking on huge jumps -- clearing rivers, gullies, highways, other cars, and even trains. The train stunt was initially supposed to jump the General through the open doors of a moving boxcar, but budget restrictions changed it to a simple jump over the train.
The highest jump the General ever performed took place in the first episode featuring the "replacement Dukes," cousins Coy and Vance (Wopat and Schneider were on strike due to a contract dispute with the studio). To clear the entire Duke family farm, the stunt crew had to use nitrous oxide to give the General a little boost.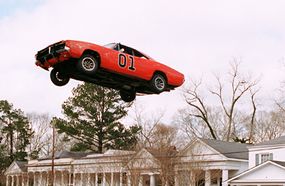 Very little stunt footage was ever reused in "The Dukes of Hazzard." That means that every time you see the General make a jump - and come crashing down - the stunt crew went out and performed that jump. Of course, there isn't a car in the world that can drive away from a jump the likes of the ones the General performed. In fact, each jump practically destroyed the car, ripping the engine mounts, bending the chassis, and ruining the suspension. At first, the studio bought replacement cars from nearby used car lots (where the original was found). However, they quickly bought and crashed every 1969 Dodge Charger in the region. Eventually, a special studio shop was built that cranked out General Lees, along with the other various vehicles driven and crashed in the show. Over 150 General Lees were produced, along with 500 other cars, mostly police cars.