When Harley-Davidson made the 2002 Harley-Davidson FLSTF Fat Boy, it knew enough not to mess with success.
When the Softail line was redesigned for the 2000 model year, it took a sharp eye to tell the "new" versions from the "old." Most changes were mechanical: The smooth new Twin Cam 88B motor replaced the Evolution V-twin, while the transmission, frame, and suspension were all revised.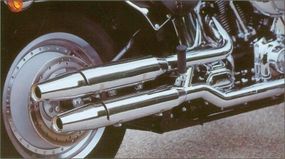 Appearance-wise, the 2002 Harley-Davidson FLSTF Fat Boy carried on much as before, though the fuel tank was larger (5 gallons vs. 4.2), the rear fender had a "flat" lower contour line over the hub, and the exhaust pipes were rerouted to expose more of the motor. But other styling elements remained intact, and the Fat Boy remained one of Harley's most popular models.