From the first day the 2000 Harley-Davidson FXSTD Deuce was introduced, Harley-Davidson has had a tough time keeping up with demand. The combination of custom appearance and contemporary features has made the Deuce a highly desirable creation.
Two of the strongest visual cues of the 2000 Harley-Davidson FXSTD Deuce are the stretched fuel tank and the straight-cut rear fender. Perhaps not as obvious are the unique "turbine blade" solid rear wheel, graceful tapered fork legs, and small teardrop headlight.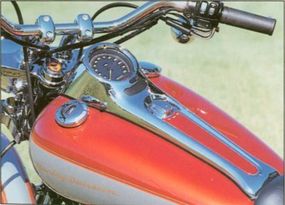 Sitting atop the fuel tank is a full-length chrome console housing the traditional lone speedometer, while curved chrome risers bring the cushioned grips closer to the riders' eager hands.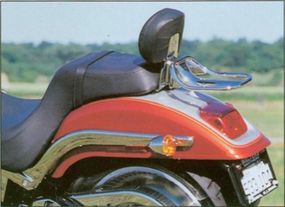 Like all Softails that year, the 2000 Harley-Davidson FXSTD Deuce carried Harley's new Twin Cam 88B motor, the "B" signifying the added balance shafts that provided smoother operation in this solid-mounted application. At first available only in carbureted form, the 88B gained optional fuel injection for 2001.