Sometimes the search for a favorite car from the past takes years. But car collector George Young wasn't having any of that. Instead, he went out and made the car of his nostalgic dreams. Young's 1964 Dodge 330 Super Stock Two-Door Sedan isn't an authentic factory issue Hemi-engine Super Stock car. It is a loving recreation of one -- with a few modifications thrown in that make the car practical to use.
One of the highlights of the 1964 racing season was Chrysler Corporation's revival of hemispherical combustion chambers for its most powerful V-8s, an effective, if expensive design, last used in 1958.
The renewed "hemi" was a 426-cubic-inch bruiser good for up to 425 publicly acknowledged horsepower; actual output was said to be substantially greater. Chrysler intended the engine for use in B-body Plymouths and Dodges destined for stock car ovals and dragstrips.
There was more good news for Mopar partisans: the availability of a new four-speed manual transmission. From Daytona to Pomona, Plymouths and Dodges were cleaning up. Two years later, in Joliet, Illinois, a youthful George Young was admiring the car of a coworker at the service station where he was employed. It was a two-door 1964 Dodge 330 with a 383-cubic-inch V-8 and a four-speed.
Eventually, Young moved on to other automotive interests. For 21 years, he says, a street rod was his hobby car. But then he got an itch for something different, and the early muscle cars he recalled from his youth were that something.
In 1998, Young bought a 330 Super Stock car in Texas. It originally came with a "four-on-the-floor" gearbox and he chose to put one in again. He eventually elected to swap the 383 engine for a Hemi.
The custom-built engine starts with a block and heads ordered from Chrysler, which still makes them to satisfy enthusiast demand. To it, he added correct aluminum intake manifold and twin Holley carburetors used on 1964 Super Stock drag cars.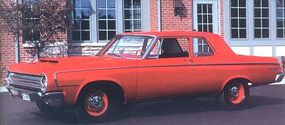 Super Stocks came with pound-paring aluminum fenders, front bumper, hood, and other parts. For real world use, aluminum would be too susceptible to damage, so Young -- who likes to drive his Dodge -- uses steel parts instead.
The distinctive wide hood scoop is made of fiberglass but still looks like the original, and a twin headlight grille, which was peculiar to the Hemi cars, is used. To keep up the Super Stock look, Young lowered the right front shock tower, and added a steel bell housing, snakelike shifter, and A-100 van seats.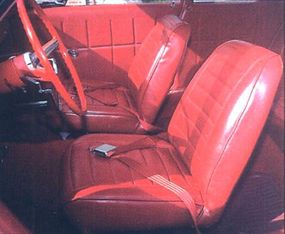 Unlike genuine Hemi cars, his has a back seat, but it's been upholstered to match the front seats and door panels. Young, now of Plainfield, Illinois, says the Dodge is a fun car. Others agree. The Goodguys Rod and Custom Association bestowed its "Muscle Car of the Year" award on it in 2002.
For more information on cars, see:
Classic Cars

Consumer Guide New Car Search

Consumer Guide Used Car Search