The 1959 Harley-Davidson XLCH Sportster was a hotter version of the traditional Harley Sportster.
Intended as a performance-oriented on/off road machine (rumor had it the "C" stood for "Competition," though Harley never said one way or the other), it differed from its milder XLH sibling by sporting magneto ignition, high-mounted exhaust pipe, "peanut" fuel tank, "bobbed" rear fender, and semi-knobby tires.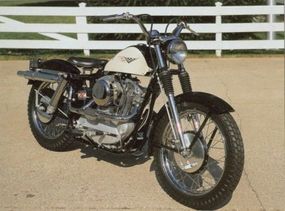 Tank badges were also different, being of a design shared by some of Harley's contemporary racing bikes. The XLCH also debuted the "eyebrow" headlight cover that remains a Sportster trademark to this day.
By contrast, the touring-oriented XLH looked (and was) heavier, with fuller fenders, large headlight nacelle, larger fuel and oil tanks, and low exhaust. Harley-Davidson maintained these two Sportster models through the 1960s, during which time they proved very successful, both on the racetrack and in the showroom.