The 1956-1966 Ferrari Superamerica and Superfast have been referred to as "the ultimate street Ferraris" by automotive historian Richard M. Langworth, who described them as "monstrously powerful and blindingly fast." These legendary cars are highly prized today.
The final model of the series, the 500 Superfast, has been called the "Ferrari 'Royale' " by Ferrari expert and author Antoine Prunet, who is of course referring to the huge and grand Bugatti Royale.
Classic Cars Image Gallery
These large and luxurious (at least by Ferrari standards) Ferraris became legendary in their own time, but it's doubtful that Enzo Ferrari would have built them had certain circumstances not come together, among them a perceived need for a Ferrari for American driving conditions and a desire to expand the line.
Most car companies -- even the builders of limited-production high-performance cars -- broaden their model bases when possible to cover as much of the market as considered desirable by management. Different philosophies emerge, with some companies seeming to think in broader terms than others. Consider the fairly wide views of Porsche, BMW, and Mercedes-Benz compared to the narrower approaches of Aston Martin and Lamborghini.
Considering its size, Ferrari built an amazing variety of model types in the early 1950s, with engines that ranged in size and configuration from a 4.5-liter V-12 to a 2.0-liter four. It offered a number of cars with Gioacchino Colombo-designed V-12 engines -- the 2.0-liter 166, the 2.3-liter 195, the 2.6-liter 212, and the 3.0-liter 250.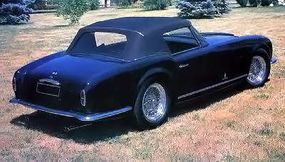 Aurelio Lampredi-designed V-12s powered the 250, the 4.0 Miter 340, the 4.1-liter 342 (25 cc more displacement than the 340), and the 4.5-liter 375. Concurrently, Lampredi-designed engines could be found in the 500 (2.0-liter four), the 625 (2.5-liter four), the 750 (3.0-liter four), the 860 (3.5-liter four), the 118 (3.75-liter six), and the 121 (4.4-liter six).
The majority of Ferrari's cars in the early 1950s were competition machines, but Luigi Chinetti, Ferrari distributor for the United States, had been trying to convince Enzo Ferrari to build a road car with a bigger engine -- one that would appeal to American buyers.
In those days, drivers of Chrysler hemis and Oldsmobile 88 Rockets reigned as kings of the American road, at least in standing start acceleration and in speed (over a straight road). Chinetti argued forcibly that while an MG owner might brag about handling, an easy-shifting four-speed manual transmission, and good brakes, someone who had just paid the far side of $12,000 for his sleek Italian steed couldn't use that sort of rationalization after an American "barge" had just left him standing at a stop light.
To see how these discussions resulted in changes for the 1956 Ferrari, continue to the next page.
For more information on cars, see:
Classic Cars

Consumer Guide New Car Search

Consumer Guide Used Car Search