The U.S. auto industry's phenomenal year of 1955 found Ford in a familiar place: second to Chevrolet overall, but first in convertible sales with the 1955 Ford Fairlane Sunliner Convertible Coupe.
In a record-setting model year in which more than 7 million American passenger cars were built, the dramatically new Chevy drew more than 1.7 million orders, about 250,000 more than the 1,451,157 Fords produced.
But, as they had done in most years since the convertible coupe style arrived on the scene, ragtop lovers flocked to Ford showrooms in 1955. They took home 49,966 1955 Ford Fairlane Sunliner Convertible Coupes. Only Chevy came remotely close with about 41,000 soft-top sales.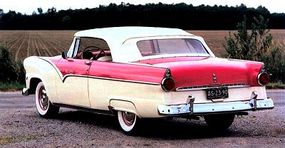 Ford had a lot to offer the convertible buyer in 1955. Dramatically new sheet metal and a trendy wraparound windshield draped the carryover 115.5-inch-wheelbase chassis. A concave checkerboard grille, Fairlane "checkmark" bodyside trim, and large "Jet-Tube" taillights completed the look.
Interiors featured a new dash design that still retained the see-through "Astra-Dial" speedometer concept first seen in 1954. Convertibles featured all-vinyl upholstery in five two-tone combinations. Tops could be had in a choice of black, blue, or tan.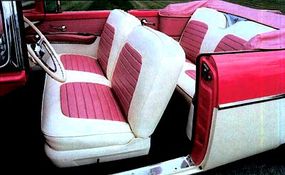 Ford upgraded its year-old "Y-Block" ohv V-8 from 239 to 272 cubic inches. Horsepower started at 162 or 182 with a four-barrel carburetor. (The 292-cubic-inch V-8 from the new two-seat Thunderbird also became available for Fairlanes and station wagons.) A 223-cubic-inch six was standard, as was a three-speed manual transmission.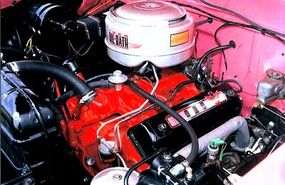 This particular example (below) of the nearly 50,000 Ford convertibles made for 1955 belongs to Gary Blakeslee, of Hemlock, Michigan. His interest in Fords of that vintage stems from that most elemental of reasons: His parents had one.
Gary's well optioned Sunliner starts with the two-barrel 272 V-8 and the Ford-O-Matic automatic transmission. Driving ease is furthered via power assists for brakes and steering. Additional comforts include a Magic Aire heater/defroster and a pushbutton radio.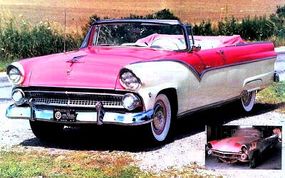 The Tropical Rose and Snowshoe White ragtop took six years to restore after Gary was able to talk a coworker who had owned the car for many years into selling it. Blakeslee performed much of the frame-off restoration himself. His efforts were rewarded in 2000, when the car was awarded a blue ribbon at the famed Meadow Brook Concours d'Elegance.
For more information on cars, see:
Classic Cars

Consumer Guide New Car Search

Consumer Guide Used Car Search