Ted Burleson's gleaming beauty of a 1950 Mercury Monterey coupe featured here proves that the choices we make in life can be very important.
The Los Angeles-built Merc spent many years in Colorado before the Alton, Illinois, man acquired the car in 1990 and finished its restoration. "It was a rust-free car in good condition to start with," Burleson noted. Good choice, Ted.
The Monterey itself represented a choice Ford Motor Company had to make back in '50. Suddenly surrounded by a legion of "hardtop convertibles" from rival Gen­eral Motors and Chrys­ler Corporation marques, Ford determined it couldn't convert its year-old bodies into hardtops at a reasonable cost.
But neither could it afford to stand idly by as GM and Chrysler wooed car buyers with their attractive new pillarless coupes. The temporary solution was to customize existing two-door bodies into a new line of specialty models: Ford Crestliner, Lincoln Lido and Capri, and Mercury Monterey.
The cars were developed from the same formula. Grained top coverings harmonized with a limited number of paint colors, and color-coordinated interiors matched the external theme. Special trim and badging were used inside and out.
The Monterey's special touches were designed under the direction of William Schmidt, whose Lincoln-Mercury Division stylists performed a light face lift of Eugene Gregorie's 1949 Mercury design for 1950. The custom coupe came with a choice of canvas or vinyl roof coverings, and fabric-and-leather or all-leather seats. Bright trim edged the windows on the inside, and a deluxe steering wheel was used.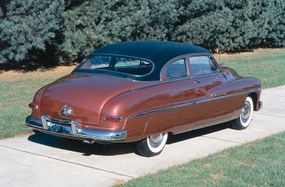 Burleson's Cortaro Red Metallic Monterey is topped by a black vinyl roof and features all-leather upholstery, options that together added $21 to the $2,146 base price of a 1950 Monterey.
Otherwise, it features the same chassis and running gear used on all other Mercurys. The 118-inch wheelbase runs between coil-and-wishbone suspension up front and leaf springs under a live axle in the rear. Power comes from an L-head V-8 displacing 255.4 cubic inches and making 110 bhp.
Regardless of the cost, Ford felt obliged to introduce its first hardtop in early 1951 to supplant the Crestliner. Merc­ury and Lincoln hung on with their gussied-up coupes until re-engineered cars came out for 1952 with all-new bodies designed to include hardtops. The Mon­terey name continued, but on a premium series of Mer­cs in three body styles. However, none of that can change the fact that a '50 Monterey like Ted Burleson's is a choice automobile.
­