Time was running out for "woody" station wagons in 1949, including this 1949 Oldsmobile 76 station wagon. The appeal of wagons was undeniable, especially for families at the forefront of the postwar "baby boom." But the costly and time-consuming maintenance required for wood bodies posed problems.
Accordingly, Oldsmobile, Pontiac, and Chevrolet shifted to all-steel wagons in the latter half of the model year, a decision validated when Plymouth introduced its steel-bodied two-door Suburban wagon that June to an enthusiastic reception.
With the introduction of the ohv Rocket V-8 in 1949, the Oldsmobile L-head six's days were also numbered. Newly enlarged to 257 cubic inches and renamed "Big Six," this engine put out 105 horsepower with a strong 202 pound-feet of torque.
In 1949, the six-cylinder wagon outsold its V-8 counterpart. In 1950, less than 10 percent of Oldsmobile station wagons had a six. The next year, the six was gone. Eights came only with the four-speed Hydra-Matic automatic transmission in 1949; sixes had a standard three-speed stick, but the self-shift was optionally available.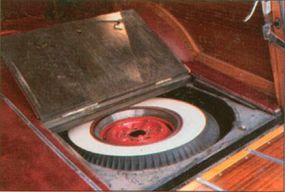 "Futuramic" body styling, introduced on the big 98s in 1948, trickled down to the six-cylinder 76 and the new eight-cylinder 88 in 1949. The "B-body" 76 and 88 rode on a 119.5-inch-wheelbase chassis.
The Futuramic style made for a good-looking wagon. Exterior wood, limited to the belt lines and tailgate, was mahogany with white ash trim. Lowering the tailgate also flipped up the taillights, allowing the car to be driven with the tailgate down for maximum load-carrying capability. Instead of an upright mounting, normal for wagons of the time, the spare tire was hidden under the cargo floor. The jack was cleverly hidden under the back seat.
Wood was more plentiful inside, with mahogany door and side panels. The wood, along with leather seats and thick carpeting for rear passengers and the cargo floor, created a sense of sporting-life luxury lost with the demise of wood-bodied wagons. By contrast, the contemporary metal dashboard seemed out of place.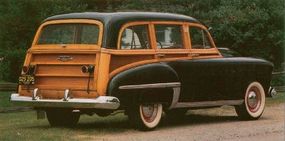 The cost of all these quality materials and workmanship added up to $2,895. This topped the cost of a comparable Oldsmobile sedan by more than $900 and had a hand in keeping sales down. Oldsmobile sold only 1,545 six-cylinder wagons and 1,355 eight-cylinder wagons in 1949. How many of these were wood-bodied is unknown. Oldsmobile reduced station wagon prices for 1950, but sales were even worse. The division then dropped out of the wagon market until 1957.
Our featured car is one of the last of the wood-bodied six-cylinder Oldsmobile wagons. The original buyer of this car chose to leave the shifting to Hydra-Matic. It is now owned by Penny Casteele, who lives in Oldsmobile's traditional home of Lansing, Michigan.
For more information on cars, see:
Classic Cars

Consumer Guide New Car Search

Consumer Guide Used Car Search