1949 Studebaker Truck
The wheelbase of the new 1949 Studebaker truck was 112 inches and the bed length was 6 1/2 feet. At a road weight of 2,840 pounds, it was lighter by an average of 400 pounds than its five principal rivals. This gave it a maximum allowable payload of 1,760 pounds, or 620 pounds more than a comparable Chevrolet. Front suspension consisted of lever shocks in conjunction with the two 40 x 1.75-inch eight-leaf springs. Lever shocks were used in the rear with nine-leaf springs of 51.75 x 1.75 inches. A progressive-type rear spring was also available at extra cost, a Studebaker exclusive.
Frame side members were seven inches deep and featured a reinforcing "K" member at the front. Full box-section cross members fortified points of stress. The 18-gallon gas tank was mounted horizontally amidships between two frame rails.
The engine was the 169.6-cubic-inch Champion L-head six, which had been introduced in the spring of 1939. It was by far the lightest engine in the truck field, yet at 80 horsepower, it produced more horsepower per cubic inch than any of its competitors. Studebaker called it the Econ-o-miser, and for good reason. In the Champion passenger car, it consistently beat out all rivals in supervised mileage contests. The engines were equipped with a vacuum-operated automatic spark control and incorporated an octane selector to adjust the timing to correspond to the octane rating of the gasoline.
When coupled with the standard three-speed transmission and 4.82 rear, it could deliver in excess of 22 mpg at a 40-mph average. Even better results could be expected if one opted to spend the extra $93 charged for optional overdrive (another Studebaker exclusive in the truck field).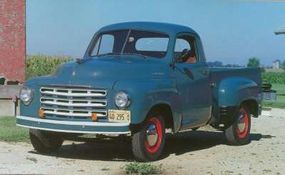 On April 11, 1950, Studebaker announced it would make available its 245.6-cubic-inch "Hy-Mileage" powerplant in the half-ton pick-up. This versatile engine was a direct descendent of the one designed for use in the 1932-1933 Rockne. It was later used in prewar trucks as well as the Dictator and Commander car lines. After the war, displacement was increased from 224 to 245.6 cubic inches; it was used in the 1947-1950 Commanders and all of the larger trucks.
To differentiate the new model from the Champion-powered 2R5, it would be referred to as the 2R6. The additional $50 cost would seem to be justified inasmuch as the increase in horsepower (102 versus 85) and torque (201 pound-feet versus 133) was substantial. Studebaker, however, did very little to promote the 2R6 and sales of it were slow.
One novel feature exploited by Studebaker's advertising was "lift the hood accessibility" to the engine and instrument panel. Indeed, there was no longer a need to stand on one's head under the dash to reach wiring, gauges, and dash lights. Simply lift the hood and all this became easy to reach and service. Engine components were also within easy reach "without fatigue or even standing on tip toes" because of the truck's low fenders and wide-opening hood.
For more information on different types of cars, see:
Classic Cars

Consumer Guide Automotive

Consumer Guide Used Car Search