The 1929 Chevrolet International AC Coupe was the first six-cylinder engine introduced by the company since 1915. The new six made international headlines, while Chevro­let hailed it as "A Six for the Price of a Four."
The "Stovebolt," so named because of the engine's slotted head bolts, cost only a little more to produce than any of the previous four, but offered 11 more horsepower than the 1928's four. The base price of the most popular model, the two-door Coach, increased to $595, a mere $10 over its price in 1928.
The six was simple and durable. It displaced 194 cubic inches and produced 46 bhp at 2,600 rpm. The "Cast-Iron Wonder," as it eventually became known, employed a solid overhead-valve design in a cast-iron block, inexpensive cast-iron pistons maintained by a non-pressurized lubrication system, and a Carter single-barrel carburetor. Power was transferred via a three-speed manual transmission. Fuel mileage averaged 19 mpg.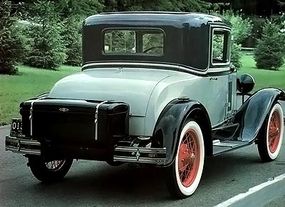 The success of the Chevy Six was such that Henry Ford initiated the hasty development of the 1932 Ford V-8 to compete with it. The original Stovebolt would last through 1936, but a continually improved six would remain as Chevrolet's only power-plant for three decades. In that time Chevrolet would become the major player in the low-price field.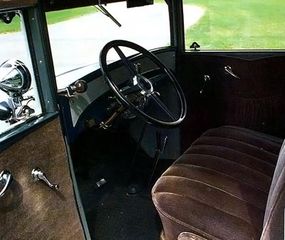 Chevrolet general manager Bill Knudsen and General Motors design director Harley Earl redesigned the Chevy to give the 1929 International Series AC a lower, more modern look. Tire size was reduced from 30 inches to 20 inches. Styling changes also included a more rectangular radiator, fewer louvers on the hood sides, new one-piece crowned fenders, new bullet-shaped headlamps, and a wider single bodyside molding. The restyle rode on a 107-inch chassis, introduced a year earlier on National Series ABs. This chassis was suspiciously long for the small four-cylinder powerplant used in 1928, foreshadowing the introduction of the six.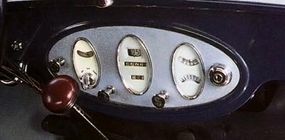 The two-passenger Coupe received a new steel rear quarter sans ornamental landau irons. The Sport Coupe model was introduced at midyear; it replaced the Coupe's trunk with a rumble seat.
The featured 1929 Model AC Sport Coupe is owned by Lew Dark of Portage, Michigan. Its original base price was $645. But it sports the most popular option, bumpers; some rare options, wire wheels and a single sidemount spare; as well as running-board step plates, a radiator-cap hood mascot, and a spotlight. Dark purchased his Chevy in 1963 as a "basket case." He restored it himself and put it back on the road in 1971. He has shown and driven the Chevy throughout the United States.