The 1924 Oakland 6-54A Four-Passenger Coupe was advertised as the "True Blue Oakland Six." Oakland was the first car to use DuPont's Duco Satin Finish paint -- initially available only in Oakland Blue. This paint not only provided a better finish, but also significantly reduced drying time, thus eliminating a major bottleneck in manufacturing.
Classic Cars Image Gallery
Founded in 1907, Oakland made solid, medium-priced cars. It was named for Oakland County, Michigan, where its cars were produced. (In 1926, Oakland introduced a companion car named for its hometown -- Pontiac.) The firm attracted the attention of General Motors founder Billy Durant and was absorbed into General Motors in 1909.
Oakland was the first car to use DuPont's DucoSatin Finish paint, originally available only in blue.
By 1919, Oakland was ranked sixth in the American auto industry with sales of 52,124. But Oakland Division sales fell in 1920 and never fully recovered until Pontiac arrived. Priced just above Chevrolet, Pontiac was an immediate hit and outsold its parent. By 1932, the slow-selling Oakland was gone.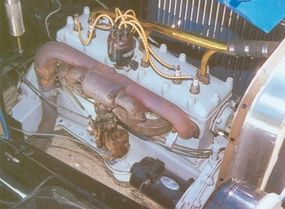 The 6-54A's new engine becamerenowned for its reliability and affordability.
But in 1924, modern styling and a new engine helped boost sales of the 6-54A to 37,080. A 44-bhp, 177-cid L-head six replaced an ohv six of the same size and power. This might sound like a step backward, but the overhead-valve six was expensive to build and had durability problems. The new six soon gained a reputation for reliability. (In 1925, the Oakland six was judged tough enough for duty in Shamrock taxis.) The six was also smooth and gave lively performance for its day. Cruising speed was 35-40 mph.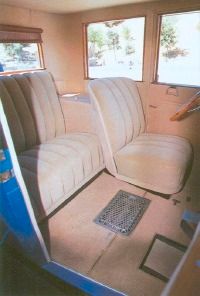 Beneath the frontpassenger seat wasa large heater vent.
Also new for 1924 were mechanical four-wheel brakes. Almost every car in Oakland's price range made do with rear brakes only. Automatic spark advance was also an unusual feature for the time. Most cars of the period had manual spark advance controls mounted on the steering wheel hub. Oakland's elimination of the spark advance allowed it to conveniently locate the throttle, choke, headlight switch/dimmer, horn, and ignition switch on the hub of a walnut-rimmed steering wheel. No key was provided for the ignition, but a transmission lock discouraged theft.
The four-passenger car shown here was one of two Oakland coupe models offered in 1924. The front passenger seat folds under the dash revealing a large heater vent. A cutout routes exhaust through pipes in the heater.
The price for the four-seat coupe in 1924 was $1,350, but did not include step plates or the accessory gate on the running board. Expanded, this held extra luggage.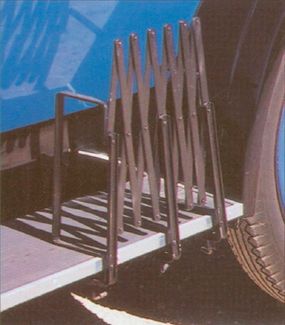 The accessory gate on therunning board was an additional option.
Our featured car is owned by Ken and Barbara Spencer, of Santa Clarita, California. The paint and upholstery were professionally done, but most of the restoration was done by Mr. Spencer, his son, and a friend.
For more information on cars, see:
Classic Cars

New Car Search

Used Car Search